Do you know what Windows Control Series is?
Windows Control Series is a fake computer application which due its behavioral characteristic is attributed to the Rogue.VirusDoctor family, which also includes Windows Advanced Toolkit, Windows Proactive Safety, Windows Maintenance Guard and others. The aim of the malware is to create an illusion that the computer's system is infected with Trojan.Win32.Qhost, Backboor.Win32.Rbot, Rootkit.Win32.KernelBot and other infections, which if not presented by this malware, are dangerous infections. The malware also creates imaginary threats, precisely, names various files as infections. The infections presented should be ignored, and the very rogue should be deleted, because only if you remove Windows Control Series you can use your computer properly.
The pattern of the rogue's behavior is identical to its predecessors. The malware presents itself as an antivirus application and produces simulated operations. Windows Control Series supposedly scans the system and provides a backlist of imaginary infections. Some infections might be familiar, just like those discussed above, and some of them might carry generic names such as Backdoor, Trojan-Banker, Monitor, Porn-Dialer, etc. Ignore all the infections but do not try to delete them manually, because the consequences of an unprofessional removal might be devastating. What you should actually do is remove Windows Control Series and ensure that this and other threats cannot enter the system.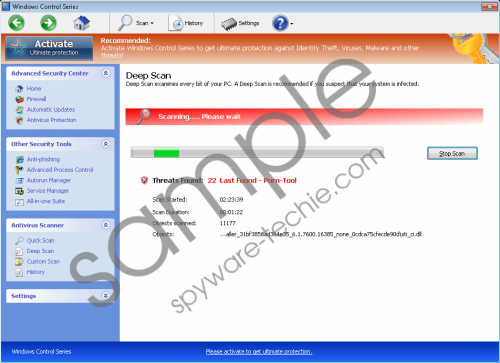 Windows Control Series screenshot
Scroll down for full removal instructions
As well as Windows Advanced Toolkit, Windows Control Series presents misleading notification saying that a threat is detected and that you will be protected once you register the full version of Windows Control Series. As this application cannon be trusted, ignore every single piece of information you are provided with. For example, such notifications as presented below should not be trusted:
Error
Software without a digital signature detected. Your system files are at risk. We strongly advise you to activate your protection.

Error
Attempt to run a potentially dangerous script detected. Full system scan is highly recommended.

Error
Keylogger activity detected. System information security is at risk. It is recommended to activate protection and run a full system scan.

Recommendations to activate the rogue are presented everywhere where it is possible. At the top of the result table you may find a recommendation saying:

Activate Windows Control Series to get ultimate protection against Identity Theft, Viruses, Malware and other threats!
The bottom lines of the table say:
Recommended:
Please click "Remove All" to erase all infected files and protect your PC
If you click the Remove All button, you are redirected to the form of purchase where you have to enter your credit card number and other identifiable information, which you should not do. Do not spend money on this imaginary application but delete it from the system unless you want to use the computer without the Internet and particular application.
The rogue throws the system into disorder to make you think that the system is infected. This is achieved by disabling the Internet, blocking certain executable files and hiding Registry Editor as well as Task Manager. Without the Internet, you cannot download a removal tool, whereas without access to Registry Editor you cannot terminate the infection manually.
Nonetheless, the rogue can be removed, but first you have to active it with this key 0W000-000B0-00T00-E0020 which restores Internet connection, Registry Editor and other tools. As soon as the rogue stops displaying bogus notifications, you can terminate the rogue.
We recommend that you remove Windows Control Series by using a removal tool which an antispyware application, because this way of removal ensures that the rogue is completely removed from the system and that there is no chance to regenerate the infection. If you experiment with the manual removal, you might miss something related to the rogue, and this is how the infection remains in the system. Hence, delete Windows Control Series automatically and there will be no worries.
In non-techie terms:
Removal of Windows Control Series is highly essential because this application is bogus. It seeks to deceive Windows users into thinking that the system is infected and that the infection can be removed only when Windows Control Series is activated.
Aliases: WindowsControlSeries.