Do you know what Wibeez.com is?
Wibeez.com may appear in your major browsers after you click on unsafe third-party content and install it directly or through a free software bundle. Our researchers have labeled this malware infection as a browser hijacker because it can modify your home page settings. This hijacker seems to be very similar to Yougoo.fr and Iadah.net, which are also hosted on the very same web server. This search engine is in French language but you can be infected with it anywhere in the world. Since this hijacker may introduce you to potentially harmful third-party content through its manipulated search results, we recommend that you remove Wibeez.com as soon as you can. However, you cannot forget about the possibility that there are other threats lurking on your system. Please read on to figure out what you can do to safeguard your computer.
When it comes to malware programs it is always important to understand how a particular infection is spread over the web in order for you to be able to prevent it from entering your computer; if it is possible without a decent, up-to-date anti-malware program. This browser hijacker can be installed after you click on a misleading unsafe third-party advertisement or link. It can easily happen when your system is already infected with adware or browser hijacker infections. An adware program, for example, can display all kinds of commercial advertisements, such as pop-ups, banners, pop-unders, and inline text. Such an infection can also hijack normal ads and redirect them to malicious websites. A browser hijacker, on the other hand, can display altered search results that could include ads and links coming from cyber criminals. If you click on any of these contents, you could either directly install Wibeez.com or download it in a bundle.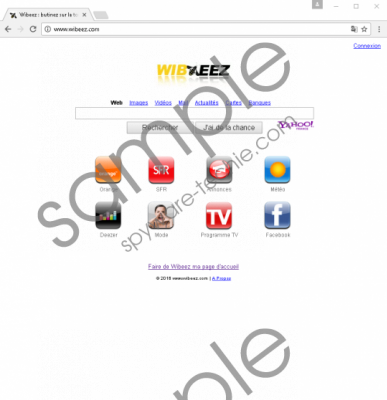 Wibeez.com screenshot
Scroll down for full removal instructions
Malicious software packages are also promoted on suspicious file-sharing, gambling, online gaming, and pornography-related websites. It is actually quite dangerous to land on such sites because you may click on corrupt content any time if you are not careful. Sometimes it is enough to just click inside an input field in an attempt to search on the page and this could trigger the opening of a new browser window with malicious content. You can never be sure when you are viewing an unfamiliar website. If you do not want to end up with a bunch of malware infections on board, we advise you to avoid such pages and clicking on any third-party advertisements as well. If you notice that your home page has changed in your browser, we suggest that you delete Wibeez.com from your browsers and scan your computer with a reliable malware scanner to find all other threats as well.
This potentially unreliable search page looks a bit different from the usual hijackers that tend to resemble Google or other reputable search engines. We do not recommend any interaction with this page even though you can find thumbnail links to popular websites apart from the search box. Clicking on any content coming from or through this search engine could result in more infections or worse. This hijacker may collect information about you and your online activities and use this to target you with tailored advertisements and links presented to you through the search results. Since this browser hijacker can also record your search keywords, it is really no-brainer to figure out what kinds of products you are interested in to buy. Unfortunately, this information can be misused and turned against you by unreliable third parties to show you fake ads and links that could redirect you to fake online shops or other websites operated by crooks. Obviously, you could easily lose money by purchasing products from a fake shop, let alone giving up your banking details as well as your personally identifiable information. This could lead to even more serious privacy issues when cyber criminals use these to commit online crimes. We believe that you should delete Wibeez.com if you do not want to go through such nightmares.
Our researchers found that the easiest way to eliminate this threat source is to change the home page settings in your browsers; this way this infection should be gone without a trace. Please use our instructions below if you have never done this before. Proper prevention is essential if you want to keep your system clean. If you cannot do this manually and by keeping some basic rules of web surfing, we suggest that you employ a reliable malware removal application, such as SpyHunter. But even if you defend your PC with such powerful security software, it is vital that you keep all your programs and drivers always up-to-date.
Remove Wibeez.com from your browsers
Google Chrome
Press Alt+F and go to Settings.
Mark Open a specific page or set of pages under On Startup.
Click Set pages.
Remove the unwanted home page URL.
Set a new URL address and press OK.
Internet Explorer
Press Alt+T and pick Internet options.
Choose the General tab and edit the home page URL.
Press OK.
Mozilla Firefox
Press Alt+T and navigate to Options.
Select General on the left.
Press Restore to Default.
In non-techie terms:
Wibeez.com is a useless and potentially risky search engine page that is mostly promoted by a browser hijacker. When this hijacker manages to infiltrate your system, it changes your home page settings in the three major browsers, including Mozilla Firefox, Internet Explorer, and Google Chrome. Using this search engine could lead to virtual security issues and vulnerability since it can provide you with potentially unsafe search results. Since this hijacker could be just one of several malware threats that came in the same software package, we suggest that after you remove Wibeez.com from your browsers, you make sure that no other infection remains on board. If manual removal is out of the question for you, we recommend that you use a decent anti-malware program to handle all your security issues.