Do you know what WebBooks.site is?
WebBooks.site is a search tool that our malware research team identifies as a browser hijacker. This hijacker might slither in without any warning, or you could be introduced to it when installing third-party software bundles along with it. Even if you have acquired this search tool willingly, we identify it as a hijacker because it is very possible that its services are misleading, in which case, you might have been tricked into agreeing to have your browsers modified. It is most likely that you will face this hijacker if you live in Brazil and if you use Internet Explorer, Chrome, or Firefox browser. Our research has revealed that the hijacker is most likely to affect the homepage, but it is possible that it will hijack the Target as well. If it does that, you will not be able to modify the homepage unless you modify the Target first. If you want to learn more about how to delete WebBooks.site and why that is necessary, keep reading.
According to our analysis, WebBooks.site could be spread via third-party installers that might bundle the hijacker along with TempMon and other third-party programs. As mentioned already, the hijacker could come along with software that you have researched. If that is the case, you should have analyzed the additional offer beforehand. If you went through with the installation without paying too much attention to the software packaged along with the program you desired, you should immediately scan your operating system to check for malware. While WebBooks.site is very easy to spot because it changes the gateway to the web, other suspicious and potentially unreliable programs could be much more difficult to spot. Of course, you have to make sure that you install a legitimate and trusted malware scanner; otherwise, you might be provided with false information that might prevent you from removing dangerous threats. Also, keep in mind that schemers might offer you a fake malware scanner to open a security backdoor and let in malware that, of course, requires removal.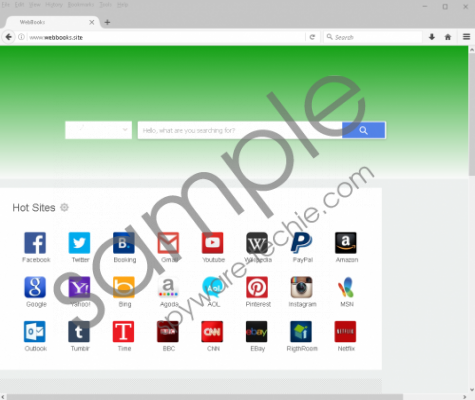 WebBooks.site screenshot
Scroll down for full removal instructions
Although WebBooks.site offers a search tool that redirects to google.com, search.yahoo.com, or bing.com, you have to focus not on these third-party engines but the fact that the hijacker can redirect your search queries. Are you sure you can trust a tool that can redirect you to a different page? Well, the intentions of the hijacker are not very clear here. Is it redirecting you to a third-party search engine to make you trust the results shown? What if these results include malicious links that the creator of WebBooks.site is paid to promote? Well, we cannot confirm or deny this because we have no access to the information about this hijacker, and we are not provided with any contact information that would allow us to communicate with the company standing behind this suspicious search tool. Keep in mind that Google, Bing, and Yahoo are not actually cooperating with the hijacker. If you like any of these search tools, you can set it as your homepage after deleting the hijacker.
We strongly advise removing WebBooks.site from your web browsers, and, hopefully, the guide below will help you erase this hijacker from your browser manually. If it does not work out for you, you should invest in an anti-malware tool that is capable of erasing active threats automatically. Note that this software can also maintain your system's protection, which is a priceless service. If you want to ask us questions about the threat or its removal, use the comments section below to start a conversation.
Delete WebBooks.site from browsers
Mozilla Firefox
Right-click the shortcut, select Properties, and click the Shortcut tab.
Move to Target, then delete the hijacker's appendix, and click OK.
Launch the browser, tap Alt+T, and choose Options.
In the General menu overwrite the undesirable URL in the Home Page section.
Google Chrome
Right-click the shortcut, select Properties, and click the Shortcut tab.
Move to Target, then delete the hijacker's appendix, and click OK.
Launch the browser, tap Alt+F, and choose Settings.
In the On Startup menu mark Open a specific page or set of pages.
Click Set pages and overwrite the undesirable startup page URL. Click OK.
Internet Explorer
Right-click the shortcut, select Properties, and click the Shortcut tab.
Move to Target, then delete the hijacker's appendix, and click OK.
Launch the browser, tap Alt+T, and choose Internet options.
Click the General tab and overwrite the unwanted URL in the Home Page area. Click OK.
In non-techie terms:
WebBooks.site is a search tool that is extremely suspicious, mostly because its creator decided not to reveal any information about it. This is a bad sign because maybe this creator is trying to hide something? We also do not fully understand the intentions behind this search tool because it is not presented in an official manner as well. The chances are that you have downloaded this search tool by accident along with more desirable software. Are you ready to remove WebBooks.site from your PC? If you want to erase this hijacker along with other potentially active infections at the same time, we suggest using anti-malware software. If you choose the manual removal option we offer, make sure you install a reliable malware scanner to help you control the situation.