Do you know what VindowsLocker Ransomware is?
According to our researchers, VindowsLocker Ransomware is designed to encrypt nearly all of the files on your PC and then offer you to call a provided fake Microsoft tech support number and pay a fee to get your files back. However, removing this infection is what you should look into because there is no guarantee that its developers will keep their word and decrypt your files. They are after your money and could not care less on whether your files will remain encrypted. In this article, we will discuss how this ransomware works, how it is distributed and how you can get rid of it from your computer safely.
Some ransomware-type malware is designed to lock the screen while others encrypt files. VindowsLocker Ransomware performs the latter action, and it seems that it cannot get any worse. Indeed, there is no way by which you can get your files back without paying the hefty 349.99-dollar decryption fee. Currently, there is no third-party tool that could decrypt your files for free. Even though it may look like this ransomware was created by amateurs and in all likeliness it was, it is still dangerous. Our malware researchers have concluded that this ransomware encrypts files with the AES (Advanced Encryption Standard) algorithm which is very strong.
While encrypting, this ransomware appends the encrypted files with the .vindows extension which does not do anything but serves as an indication that the file was encrypted. Our researchers say that this malicious program can encrypt hundreds of file formats that include .dat, .bat, .bin, .ini, .tmp, .lnk, .com, .msi, .sys, .dll, and .exe. This ransomware was designed to encrypt many files types because its developers aim to encrypt your personal and, thus, valuable files for which you would be willing to pay the hefty ransom. Once the encryption process is complete, this ransomware is designed to open its Graphical User Interface window that features the ransom note.
VindowsLocker Ransomware's ransom note states that your files have been locked and that you need to call level 5 Microsoft support, never mind that there is no such thing as level 5 Microsoft support. The tech support number is 1-844-609-3192, and our researchers say that the people on the other end of the line will try to sell you the decryption tool/key for 349.99 USD. Now that we know how this infection works let us take a look at how it is disseminated.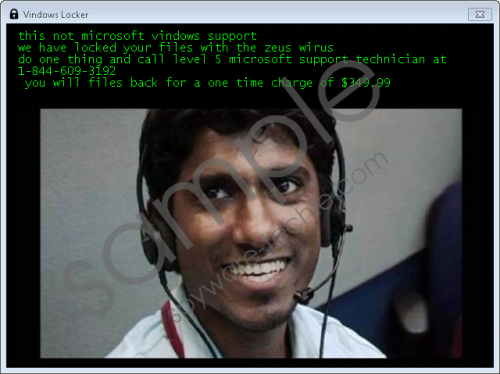 VindowsLocker Ransomware screenshot
Scroll down for full removal instructions
While there is no concrete information on how VindowsLocker Ransomware is currently being distributed, our malware researchers say that this ransomware is most likely distributed trough malicious emails. Usually, ransomware developers set up dedicated servers that send email spam to random users that the emails pose as legitimate and insist on the would-be victim to open the attached file that can look like an ordinary PDF but is, in fact, a Trojan that secretly downloads the main executable of the ransomware. Researchers believe that this is true in the case of VindowsLocker Ransomware and advise to exercise caution when opening unknown emails.
In conclusion, VindowsLocker Ransomware is a highly malicious application that can irreversibly damage your files. We do not recommend that you pay the ransom because there is no guarantee that you will receive the promised decryption tool/key. We suggest that you remove this ransomware using the guide presented below. The guide involves using SpyHunter's free scanner to detect the malicious file, but then you can delete the file manually.
How to delete VindowsLocker Ransomware
Go to http://www.spyware-techie.com/download-sph
Download SpyHunter-installer.exe and run it.
After installing it, select Scan Computer Now!
Press Win+E keys while in desktop.
Enter the file path in the File Explorer's address box and hit Enter.
Right-click the malicious executable and click Delete.
Empty the Recycle Bin.
In non-techie terms:
VindowsLocker Ransomware is a malicious program that can encrypt your files if it infects your computer. Its developers demand $349.99 for the decryption key, but there is no guarantee that you will receive it. Unfortunately, there is no way to decrypt your files for free and, therefore, we recommend that you remove this ransomware using the guide featured above.