Do you know what Trojan.SlayerRAT is?
Trojan.SlayerRAT is a severe threat on your computer that can endanger your privacy as well as the health of your files and your computer. This vicious Trojan may slither onto your operating system without your knowledge and permission. This is quite bad news because this infection can remain unseen and cause you a lot of damage indeed. This Trojan serves as a backdoor practically, which means that hackers can easily gain access to your computer and your information stored there as well as make modifications on your system. Being hit by this malicious program is like sleeping with a time bomb under your pillow. If you want to be sure that you are using a secure computer, you should remove Trojan.SlayerRAT and scan your system for other potential threats as well. Please read our full report if you are interested in how this Trojan can show up on your system and what you can do against it.
Our researchers have found that the most likely way for you to let this malware program onto your computer is by downloading it from a spam e-mail. As a matter of fact, spam mails are usually used by all kinds of Trojans and ransomware programs as well to spread over the web. It seems that it is still easy for crooks to deceive unsuspecting computer users. However, such spam mails could in fact fool even more experienced users. The trick behind such a mail is threefold. First, the sender address could be an e-mail address that looks familiar or legitimate to you, such as a government office, a mobile network provider, a famous hotel, and so on. Second, the subject field reveals an urgent matter that requires your immediate attention. This could be anything really that may relate to anyone. Even if you think you are not related, you would most likely want to see the contents because you need to make sure. This can happen when, for example, the subject claims that you have not paid a speeding ticket, you have not settled an invoice, you have not got a parcel because of delivery issues, you have given the wrong credit card details for a hotel room booking, and the list goes on.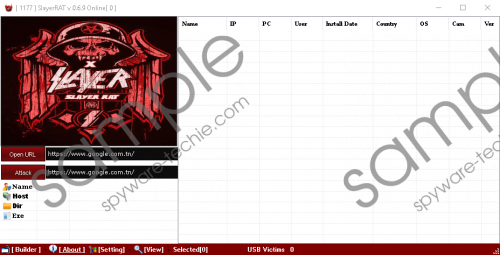 Trojan.SlayerRAT screenshot
Scroll down for full removal instructions
The third push comes from the message itself. Once you open this mail, the body will not reveal too much about the urgent issue but, instead, you are pointed towards the attachment that is offered as a clue to your made-up problem. Do you think you could say no to such an e-mail? Or, would you like to quickly double-check that alleged invoice, etc.? The truth is that the moment you save the attached file and click to view it, you actually activate this severe infection. It is important to figure out about this threat in time, because the longer this Trojan stays on your computer, the more damage it can mean to you. We highly recommend that you delete Trojan.SlayerRAT immediately after you detect its presence.
There is also a promotional site that you can find at slayerrat.blogspot.lt. It is enough to mention that this site is rather suspicious and could not be called professional in any sense. It looks more like a five-minute job of a five-year old boy. Apart from the fact that no menu items lead to any useful page, you cannot even download this supposed remote administrator tool; hence the "RAT" in the name. Actually, instead of being a useful tool for administrators, it seems more useful for cyber criminals since this Trojan can open a backdoor for them to be able to access your computer, your system, and your files. You do not want to know what capabilities this can give to crooks.But it is enough to mention that they can alter system settings, modify your registry, delete and create files, steal all kinds of information, and so on. We believe that you cannot afford such a severe threat on your system. This is why we recommend that you remove Trojan.SlayerRAT right away.
It is possible that you can easily locate the malicious .exe file called "stub.exe" as this is the file that you saved from the spam e-mail. You may use the default download folders for saving files from the web but you may also use your private choice of a folder. Nevertheless, all you need to do in order to delete Trojan.SlayerRAT from your computer is bin this file. Please use our guide below as a reference if you need assistance. Hopefully, you have realized the importance of protecting your computer with a professional tool. We recommend that you use a reliable malware removal application, such as SpyHunter, if you do not want to fight every malware battle manually.
Remove Trojan.SlayerRAT
Tap Win+E to launch Windows File Explorer.
Search for "stub.exe" in these folders: %TEMP%, %USERPROFILE%\Downloads, %APPDATA%, %PROGRAMDATA%, Desktop
If you cannot find the malicious executable file in the above directories, try to locate it where you saved it from the spam mail.
Once found, bin "stub.exe"
Empty your Recycle Bin and reboot your PC.
In non-techie terms:
Trojan.SlayerRAT is a worthless program that pretends to be a remote administrative tool; however, our researchers have decided to label it as a Trojan malware infection. Such a malware program is a great weapon if hackers and other cyber crooks can access it since this Trojan opens a backdoor for them to your system. This means, that all your files, your system settings, your Windows Registry will be at their disposal; and, the worst is that all this without your knowledge. The main feature of such a Trojan is to lay low and invisible since if its presence becomes known, there is a chance that the alert user would delete it right away. Due to its capability to cause serious harm to your computer, we recommend that you remove Trojan.SlayerRAT from your computer ASAP. If you need an efficient automated method, we advise you to use a trustworthy anti-malware program.