Do you know what Totopweb.com is?
Even though Totopweb.com has all the features of an ordinary search provider, it differs to a great extent from Google, Yahoo!, and other legitimate search engines. First of all, unlike those reliable search tools, it does not ask permission to appear on users' browsers. Instead, it is spread by a browser hijacker infection and is capable of changing the settings of all users' browsers, including Internet Explorer, Google Chrome, and Mozilla Firefox, without permission. Secondly, it might display intrusive advertisements leading to untrustworthy websites. The same can be said about these links and buttons leading to third-party websites available on its start page. Finally, this product might also record information about users, just like other untrustworthy search tools do. As can be seen, Totopweb.com is far from a reliable search tool, so it would be best to replace it with a decent search engine as soon as possible for the sake of the system's safety. If we have not convinced you yet to get rid of it, read the following paragraphs of this report. Unfortunately, you will not find anything positive about this tool in them.
Totopweb.com might look like a decent search tool created to help users find the information they are looking for on the web; however, it has become quickly clear for our team of experts that Totopweb.com is just another product created by people who, some time ago, developed such search engines as Gamegogle.com, Jogostempo.com, 123rede.com, and Top8844.com. These search tools used to be popular, but, unfortunately, they are not trustworthy either. The main problem associated with all these search providers, including Totopweb.com, is that they all travel with browser hijackers and, consequently, change the settings of browsers without permission. These search tools released some time ago used to show the sponsored search results too; however, it seems that search results displayed by Totopweb.com are quite reliable (the Google search engine is used). Of course, there is still one major drawback associated with this search engine. Research has shown that users might see advertisements on the main page of Totopweb.com. On top of that, there is a possibility that not all the buttons and links available there lead to trustworthy websites. In other words, there is a slight possibility to end up in a dangerous place if you decide to continue using Totopweb.com as your default search engine.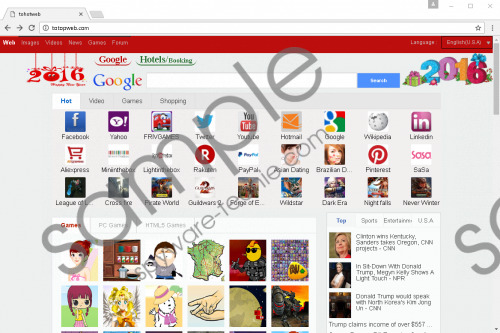 Totopweb.com screenshot
Scroll down for full removal instructions
Two drawbacks of a search engine are more than enough to erase it; however, if you have not been convinced to get rid of Totopweb.com yet, you should know that this search tool might be a threat to your privacy as well because it is going to record details about users and their activities. It is hard to say what types of information will be recorded because Totopweb.com does not have a Privacy Policy document (it is another serious drawback). On the basis of the previous experience of our research team, such questionable search engines record non-personally identifiable details mainly (at least, it is said so), but it often turns out that they can record personal information too if it comes as a part of this non-personally identifiable information. It would be too naive to think that this search tool will be updated and thus become flawless one day. Therefore, according to guys working in our research lab, it would be best to erase it right now without further consideration.
It is evident that Totopweb.com, like other browser hijackers, tends to enter computers without permission and then apply changes. Unfortunately, users often contribute to its entrance without even realizing that too. They do that by installing a software bundle they get from the web. Malicious software is very sneaky, and it is, unfortunately, not always easy to prevent it from the system. Therefore, you should not blame yourself if you could not protect your computer.
Even though browser hijackers are quite serious threats, it is usually not that hard to delete them from the system. All you need to do is to reset your browsers to their default settings. An alternative removal method would be using an automatic malware remover, e.g. SpyHunter. It is up to you how to erase this threat, but make sure that you fully remove it.
Delete Totopweb.com
Internet Explorer
Open your browser.
Open the Tools menu (tap the Alt button if you do not see it at the top).
Click Internet Options.
Click on the Advanced tab.
Click Reset.
Locate the checkbox next to Delete personal settings and mark it.
Click Reset again.
Mozilla Firefox
Launch your browser.
Press Alt+H and then select Troubleshooting information from the menu.
Click on the Refresh Firefox button.
Click again on it in the confirmation window.
Google Chrome
Double-click on your browser's shortcut to open it.
Press Alt+F.
Select Settings from the menu and scroll down.
Click Show advanced settings at the bottom.
Click Reset settings.
Click the Reset button.
In non-techie terms:
Browser hijackers are threats that are not only very annoying, but might also cause harm to the computer. Therefore, you should take care of your system's safety. It might be too hard for you to protect the system from these infections alone. Therefore, you should acquire and install on your computer a trustworthy antimalware tool. As long as you keep it enabled, malicious software will not have a chance to sneak onto your computer.