Do you know what Tech-connect.biz is?
Tech-connect.biz is a search engine that cannot be trusted. It comes as a part of a browser hijacker infection, and, once inside the system, it changes the settings of browsers without permission. Since it works on all the browsers, including Mozilla Firefox, Google Chrome, and Internet Explorer, it means that you will see changes applied on all of these browsers. As research has shown, this search tool should be set as homepage and might even replace the default search engine. It does look like an ordinary search tool at first sight, but, unfortunately, it is far from being a trustworthy search provider. Our team of experts has found that this questionable search tool might display untrustworthy search results. Also, unlike trustworthy search tools, e.g. Bing, Yahoo!, and Google, it makes modifications so that it could not be removed from browsers easily. To be more specific, it modifies the shortcuts of browsers. This allows it to revive if the browsers' settings are changed by a user. Fortunately, our team of experts knows how to get rid of this questionable search tool once and for all. They are ready to share the knowledge they have with you.
Even though any user can find Tech-connect.biz set on his/her browser, it has been observed that the majority of people who discover this questionable search tool live in Pakistan, India, Indonesia, Greece, and Germany. It shows that this browser hijacker infection is targeting people living there primarily. If you have found set Tech-connect.biz on your browsers too, you need to remove this questionable search tool no matter what your place of residence is. There are two main reasons why our specialists recommend getting rid of this search tool as soon as possible. First of all, it has been found that this search engine redirects searches through Yourconnectivity.net, which means that search results might be modified along the way. In other words, promotional links might be put in one place together with search results based on the search query. Since they appear on the same page, the chances are high that a user will sooner or later click on such a sponsored search result. Unfortunately, this means that users might end up on an untrustworthy third-party website one day. Not all these links promote bad third-party websites; however, there is no doubt that links of those websites with an infectious content might be provided for users as well. Generally speaking, Tech-connect.biz might cause harm to the computer indirectly, so it would be best to replace it with a new reliable search tool.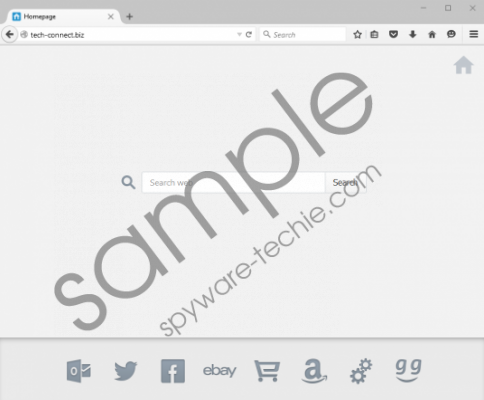 Tech-connect.biz screenshot
Scroll down for full removal instructions
Specialists who have carried out research say that Tech-connect.biz is only one of a bunch of questionable search tools available on the market. They have found that it is very similar to esurf.biz, safesurfs.com, and foryourweb.net, which suggests that all these search tools are created by the same developer. These search engines share similarities too. It has been found that they might all appear on browsers without permission and then display untrustworthy search results. Also, they might all collect information about users. It is hard to say what details will be recorded by Tech-connect.biz because it does not have a Privacy Policy document. Reliable search engines always have documents allowing users to find out more information about them, so if you encounter a search tool that does not have the Privacy Policy, Terms of Use, or another important document, you need to get rid of it as soon as possible.
As you already know, untrustworthy search tools are often distributed by browser hijackers. These threats are usually spread bundled with other applications and sneak onto computers together with them. Unfortunately, many users allow these infections to enter their computers themselves because they tend not to read the information provided for them in the setup wizard. Also, the majority of people do not have security tools installed on their computers, which means that infections can easily enter their systems.
If you could not protect your PC from malware and, as a result, see Tech-connect.biz set on your browsers now, it means that you have to get rid of this questionable search tool and then ensure the maximum protection of the system. Tech-connect.biz can be deleted manually, but it will not be very easy to do that since it modifies the shortcuts of browsers. These shortcuts can be fixed manually, but users can also go to remove the dubious search tool automatically instead of trying to erase it themselves.
Delete Tech-connect.biz
Fix the Target line in shortcuts
Right-click on the shortcut of your Internet Explorer, Google Chrome, and Mozilla Firefox.
Select Properties.
Click to open the Shortcut tab.
Locate the Target line.
Delete the item http://tech-connect.biz from the Target line.
Click Apply and then close the window.
Reset browsers to their default settings
Internet Explorer
Open your browser.
Press Alt+T and then click Internet Options.
Open the Advanced tab.
Click on the Reset button.
Click Reset once again.
Mozilla Firefox
Launch your browser.
Open the main menu (click on the button in the top-right corner) and click on the question mark.
Select Troubleshooting Information.
Click Refresh Firefox (or Reset Firefox).
In the confirmation window, click on the same button.
Google Chrome
Launch Chrome.
Click on the button in the top-right corner.
Select Settings.
At the bottom, click Show advanced settings.
Click Reset settings.
Click Reset.
In non-techie terms:
It is not always easy to prevent malicious software from entering systems because some threats are very sneaky and might find various illegal ways to get onto computers. As a result, people should use special tools. According to security specialists, a reputable antimalware tool should help you to ensure the maximum protection of the computer. Our experts recommend using SpyHunter as your main security tool.