Do you know what Startsearch.org is?
If you think that Startsearch.org is a reliable and useful search provider, you need to think about it again. The research conducted in our internal lab has revealed that this suspicious search tool can be quite dangerous, and using it could be risky for the security of your virtual identity. The biggest problem that we have with this search tool is that it displays advertisements instead of normal search results – although some are added as well – which means that it might stop you from browsing the web in an efficient manner! Do you want a useful search tool or one that cannot fulfill its basic purpose? We are sure that you realize by now that we advise deleting Startsearch.org from your web browsers. Whether this search tool has taken over Chrome, Firefox, or Internet Explorer, we will help you get rid of it in no time.
After researching Startsearch.org, it has become clear that this search tool is unlikely to be promoted on its own. Instead, you are likely to find it attached to third-party software. If this software is spread by a malicious installer, you might be exposed to malicious infections, some of which could even slither into your operating system without your permission. If you have not done this already, install a malware scanner to thoroughly examine your operating system and check if you need to remove any other threats. Do not be surprised if you discover Startsearch.org to be classified as a browser hijacker or an unreliable search tool. It is possible that this hijacker will take over your browsers without your permission. You could also be tricked into installing it. In general, this search tool is not considered reliable or useful, and eliminating it from your operating system is the best idea.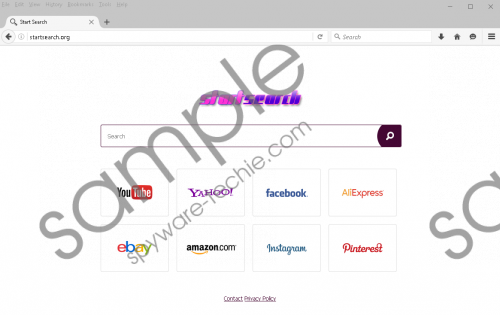 Startsearch.org screenshot
Scroll down for full removal instructions
According to our research, Startsearch.org was created by an unknown company based in Italy; however, its main target is users who are located in Spain. Regardless, the interface of this hijacker and the legal information that supports it are represented in English, and the quick-access links represent websites that are popular all over the world, which means that it could be targeted at any user in the future. The easy-access links include ebay.com, youtube.com, and instagram.com. Is it dangerous to interact with these links? It probably is not, unless the cookies installed along with the hijacker are capable of collecting the data you enter. Notably, the Privacy Policy states that personally identifiable information is NOT collected, but the reality is that third-party cookies could be installed, especially when you interact with the sponsored links shown to you. In case you have already interacted with suspicious sponsored links, think if your virtual security could have been jeopardized because of that.
We are sure you wish to remove Startsearch.org from your browsers. Well, you should not focus only on this hijacker. If a malware scanner detects other threats, you need to take them into consideration as well. You can use an anti-malware tool to have all of them erased simultaneously, and that is the option we recommend because anti-malware software can also ensure full-time protection, which you so desperately need. Should you decide to get rid of malware yourself, we have created a guide that will help you change settings and erase unwanted tracking cookies. If you have any questions about the removal processes, use the comments section below to start a discussion.
Delete Startsearch.org from browsers
Mozilla Firefox
Launch the browser, tap Alt+H, and click Troubleshooting Information.
Click the Refresh Firefox button and then confirm your choice.
Tap Ctrl+Shift+Delete to open the Clear All History menu.
Select the right time range and the right boxes and then click Delete.
Internet Explorer
Launch the browser, tap Alt+T, and choose Internet options.
Click the Advanced tab and then click the Reset button.
Mark the box indicating Delete personal settings and click Reset.
Tap Ctrl+Shift+Delete to open the Delete Browsing History menu.
Select the right boxes and click Delete.
Google Chrome
Launch the browser, tap Alt+F keys, and select Settings.
Move to the bottom and click the Show advanced settings button.
Scroll to the bottom, click the Reset settings button, and click Reset.
Tap Ctrl+Shift+Delete to open the Clear browsing data menu.
Select the right time range and the right boxes and then click Clear browsing data.
In non-techie terms:
You should not trust Startsearch.org as any other reliable and useful search engine because it is neither reliable nor useful. This search tool was created to serve as an advertising platform, because of which ads take the majority of the space dedicated to search results. Needless to say, this is not the kind of search tool you should trust, especially because the advertisers working with the hijacker are unknown, which means that they could be untrustworthy. The guide above explains how to erase this hijacker manually, but we strongly recommend using anti-malware software to get rid of all threats and reinforce your system's security at the same time. Use the comments section below if you want to start a discussion.