Do you know what Startpage-home.com is?
Startpage-home.com only looks like a normal search provider; however, in reality, it is a browser hijacker that cannot be trusted. This browser hijacker was created by Bontio Media – also known as Bontio, Inc. – which has also created Homepage-web.com, Search-startpage.com, and other hijackers that you have to beware of as well. At the time of research, users living in Mexico were the most common victims of this browser hijacker. Of course, that does not mean that the hijacker cannot take over your browsers if you live somewhere else. According to our research, there is a possibility that this hijacker will take over your browser without your permission, which means that it might enter illegally, and that cannot be ignored. Some users might also give this hijacker the permission to take over their browsers. In either case, other threats are likely to follow the hijacker, and you need to delete them as well. Obviously, our main focus right now is the removal of Startpage-home.com.
So, has Startpage-home.com entered without permission or did you install it yourself? If you have let this hijacker in yourself, you must have been promised great services. Well, the interface of this hijacker is not attractive at all. In fact, all we can see is a dialog box where you can enter search keywords. You also have Web, Images, Videos, and News tools, and you can make your search more efficient by using them. Of course, you cannot actually browse the web efficiently using Startpage-home.com. This browser hijacker is no search tool at all because it can only redirect you to a third-party search engine. At the moment, it is rerouting all search queries to search.yahoo.com. In the recent past, however, it was using the Google Custom Search engine to deliver search results. Regardless of which third-party search engine is used, we do not advise trusting it blindly. As a matter of fact, our malware experts agree that this might be the main reason to delete the browser hijacker.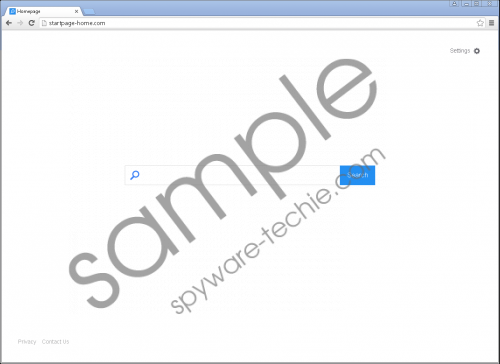 Startpage-home.com screenshot
Scroll down for full removal instructions
The search results represented by Startpage-home.com could contain unreliable links that Bontio (the creator of the hijacker) might be paid to advertise. Of course, we cannot claim that all links will be dangerous, but you have to keep in mind that malicious links do not "look" dangerous. Hopefully, if you have already used the hijacker, you have managed to evade unreliable offers. What you could not have evaded is the collection of information. As stated in the Startpage-home.com Privacy Policy, data-tracking tools (including the ones employed by unknown third-party partners) can collect information about you. The good news is that personal information is not collected; at least that's what is stated via the Privacy Policy. Although you can dismiss the data trackers employed by the hijacker as harmless, are you sure that the ones used by third parties are just as harmless? If you are not, we suggest removing them along with the hijacker.
If you reset your browser, you will get rid of Startpage-home.com along with tracking cookies, which is why this is one of the methods we propose. You can follow the instructions below if you are not sure how to reset the browsers and erase the cookies. Alternatively, you can employ reliable, legitimate anti-malware software to automatically erase the hijacker. If your operating system is infected with malware – and you know that the hijacker might have been installed along with third-party threats – this is the best option for you. We also encourage you to keep this anti-malware software updated at all times to prevent unwanted and uninvited threats from slithering in again.
Remove Startpage-home.com
Mozilla Firefox
Open Firefox and tap Alt+H keys.
Click Troubleshooting Information.
Click Refresh Firefox.
Click Refresh Firefox again.
Internet Explorer
Open IE and tap Alt+T keys.
Click Internet options.
Move to the Advanced tab.
Click the Reset button.
Select Delete personal settings.
Click Reset again.
Google Chrome
Open Chrome and tap Alt+F.
Select Settings.
Click Show advanced settings (at the bottom).
Click Reset settings (at the bottom).
Click Reset.
In non-techie terms:
Your operating system might be vulnerable if Startpage-home.com has found its way in. This browser hijacker is usually spread via software bundles that carry multiple programs together, and they can be malicious. If you are not sure if other threats are active, immediately install a malware scanner to inspect your operating system. If malware is detected, we advise using anti-malware software to have all infections removed automatically. If the hijacker is the only threat active, you can reset your browsers to get rid of it, but do not forget to employ reliable security software afterward to guard your virtual presence.