Do you know what Stabx.xyz is?
Stabx.xyz is a potentially dangerous computer security threat that must have slithered into your system behind your back. In fact, it would not be surprising if you installed this application willingly. Here you must stop and say that you would never do such a thing, but it is very often that users allow such programs to enter their systems without even realizing it. However, now that you know this program is on-board, you should do everything you can to remove Stabx.xyz for good. While you are at it, you should also look for other undesirable applications because such threats seldom travel alone.
Our security lab team says that Stabx.xyz was created in the Russian Federation, and the server of the search engine is based there, too. There is also an entire list of browser hijackers that are direct clones of this program, and they might also be distributed in the very same way. For instance, monsear.xyz, wowstart.online, ustarts.xyz, and frext.tk are just several browser hijackers from the group. In a sense, it means that computer users in the Russian Federation are the most susceptible to getting infected with these browser hijackers, but that does not mean the program recognizes national borders.
If you happen to visit the websites that are part of the hijacker's distribution network, you might as well get this program on your system, too. The program should spread bundled with third-party software installers and undesirable extensions. Thus, if you are about to add some random extension to your browser, you should check user replies and other types of feedback before you trust particular applications. The same applies to third-party programs, too. If you download them from official websites, you can also see what users have to say about these applications. Needless to say, downloading from third-party sources is not recommended because then there is a bigger possibility that you might get unwanted applications on-board.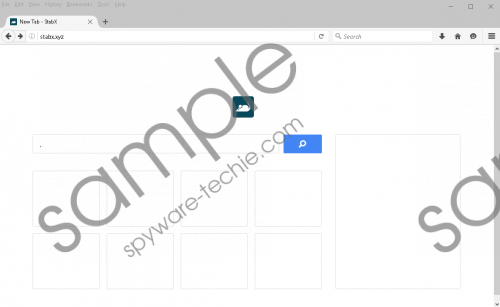 Stabx.xyz screenshot
Scroll down for full removal instructions
In fact, this is probably how Stabx.xyz gets onto your browser. Third-party installers may or may not inform you about the additional programs they are carrying. But even if they do, users tend to skip through the installation steps as they want to be done with the installation process as soon as possible. Consequently, they miss the chance to avoid adding unwanted extensions or toolbars to their browsers. Needless to say, Stabx.xyz might as well be one of them.
What is the worst thing about Stabx.xyz? It is not the fact that this program takes over your browser or collects information on which websites you visit. After all, the information cannot do much because it is just generic data that describes your web browsing patterns. This information does not contain your banking logins, passwords, and other sensitive credentials. The most dangerous thing is that this browser hijacker can be easily exploited by malevolent third parties. The program has a lot of security loopholes that will be used by cyber criminals to distribute their content.
For instance, Stabx.xyz may display third-party content, trying to make you click it. The content will be more or less related to your recent searches, but there is no guarantee it would lead you to safe websites. The browser hijacker does not care about that because it is not responsible for the third-party content security. This is why almost anyone could make use of the program to distribute their content, as long as they know how to do that. And you trust cyber criminals to know how to exploit such a vulnerable application.
You need to prevent that from happening by investing in a security tool and removing Stabx.xyz today. You can restore your browser settings to default manually, but there might be other undesirable applications that require your attention. If you are not sure you could take care of that on your own, you can always leave that to professionals by acquiring a security application that will remove Stabx.xyz for you automatically.
If you need any recommendations or guidelines about what you should do to protect your computer from harm, please do not hesitate to contact us. Please remember that malware is always lurking behind every figurative corner, you need to remain vigilant.
How to Delete Stabx.xyz
Chrome
Press Alt+F and click Settings.
Scroll down and click Show advanced settings.
Click Reset Settings at the very bottom.
Press Reset to confirm.
Internet Explorer
Press Alt+T and open Internet options.
Click the Advanced tab and press Reset.
Mark the Delete personal settings option and click Reset.
Click Close.
Firefox
Press Alt+H and open Troubleshooting information.
Click Refresh Firefox on the new tab.
Press the Refresh Firefox button again to confirm.
Click Finish.
In non-techie terms:
Stabx.xyz is a rather basic security threat that will change your browser settings without your permission. This does not mean that the program allows other dangerous threats to enter your PC automatically. However, the hijacker could easily cause a number of security issues and so you should not ignore that. Remove Stabx.xyz right now and then protect your system from other unwanted applications that might be there. Do not hesitate to get yourself a reliable antispyware tool, if need be.