Do you know what ShellLocker Ransomware is?
ShellLocker Ransomware is a threat that locks users' files and system utilities when it successfully enters the computer. Once it finishes encrypting files, it opens a ransom note on Desktop, so it might be impossible to reach it. Even if you could do that, you would not be allowed to access your programs and files because ShellLocker Ransomware locks them all. Ransomware infections do not act like this just for fun. ShellLocker Ransomware has also been placed into this category of threats not without reason. All ransomware infections seek to extort money from users. Our team of experts says that users who decide to give cyber criminals what they want (i.e. money) make a huge mistake. It is because paying money to them does not guarantee that files locked by this infection will be immediately unlocked. In fact, there is a possibility that you will not get anything after transferring money to cyber criminals. On top of that, the ransomware infection will not be deleted from your system, which means that it will, in the worst-case scenario, be able to lock users' files again. Do not let it stay no matter you decide to pay a ransom or not.
Since the main goal of ShellLocker Ransomware is to lock users' personal files and then demand a ransom, it will do that immediately. You will understand that there is something wrong with your files quite quickly because these locked files will have a new filename extension .L0cked. Also, a ransom note will be left for you – it explains what has happened to files and what has to be done to get them back. It is said there that the only way to unlock files is to "pay 100 USD in Bitcoins to the address provided below." Users are given only 48 hours to do that to make sure that it is basically impossible for them to find a way to unlock files without the key. We know you really need your files back; however, you have to understand that the key to unlock them might not be sent to you even if you pay the required money, so it is not recommended to make a payment. Unfortunately, there is not much you can do to decrypt files without the key; however, you should not give up too soon. Our specialists say that users should try to use data recovery tools available on the market. They might help to get some files back without paying money to cyber criminals.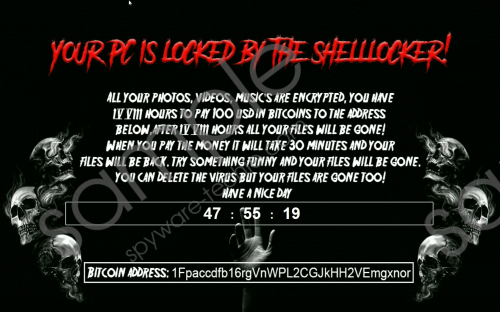 ShellLocker Ransomware screenshot
Scroll down for full removal instructions
ShellLocker Ransomware does not differ from other ransomware infections. Well, it uses the .NET framework, unlike similar threats, but it acts like those ransomware infections released some time ago, i.e. it locks files and then asks money. As has been found, it is also distributed the same. Just like other ransomware infections, it is also spread through spam emails and their attachments. More specifically, it travels as an attachment in these emails. Since this attachment does not look harmful, people open it and allow malware to enter their computers without even realizing that. Once it enters the computer, it drops its executable file svchost.exe in %APPDATA%\Microsoft\Windows\Start Menu\Programs\Startup. Of course, you will also find a ransom note on Desktop and a bunch of personal files encrypted.
ShellLocker Ransomware blocks the Task Manager once it finishes encrypting files too. Unfortunately, this means that you will have to boot into Safe Mode with Networking to be able to erase it. Use our manual removal instructions to do that. Once you have started the Windows OS in this mode, you should go to delete this malicious application. It would be better that you use the manual removal instructions prepared by our specialists if you have never deleted malicious software before. Alternatively, you can acquire SpyHunter and then scan your system with it after booting into Safe Mode with Networking.
Delete ShellLocker Ransomware
Boot into Safe Mode with Networking
Windows XP/7/Vista
Restart your computer.
Immediately start tapping F8 on your keyboard.
Select Safe Mode with Networking using arrow keys.
Press Enter.
Windows 8/8.1/10
Reboot your PC.
At the login screen, press Shift and hold it while clicking Power.
Click Restart.
Under Choose an option, select Troubleshoot.
Click Advanced options.
Click Startup Settings.
Click Restart.
Press F5.
Remove ransomware
Press Ctrl+Shift+Esc.
In the processes list, locate svchost.exe, right-click on it, and select End Process.
Close the Task Manager.
Press Win+E.
Type %APPDATA%\Microsoft\Windows\Start Menu\Programs\Startup in the URL bar.
Tap Enter.
Locate the svchost.exe file. Delete it.
Delete the malicious file you have launched recently.
Empty the Recycle bin.
In non-techie terms:
Even though you have fully deleted ShellLocker Ransomware, it does not mean that there are no other infections working on your computer. These threats might be very hard to detect, so we highly recommend scanning the computer with an automatic tool. You can get the diagnostic version of a reliable scanner SpyHunter from our website. It will let you know about the presence of all the infections within seconds.