Do you know what Searchgoog.ru is?
Our security specialists have recently come across a suspicious search engine called Searchgoog.ru. As it turns out, it is a browser hijacker because its owners use deceptive methods to get it installed on your computer. The purpose of hijacking your browser's homepage settings in the first place is to force you to use it as a search engine and view shady promotional links. Therefore, we highly recommend that you remove it from your computer as soon as the opportunity arises. Apart from changing your browser's homepage by force, it will also subject you to questionable, modified search results and even collect information about you to personalize them. The fact that it can do that is unacceptable and the sooner you get rid of it the better.
Our security specialists say that this hijacker most likely comes from a Russia-based developer and is hosted on a Russia-based server as well. Some of the other websites hosted on the same server include Expressdoctavka.ru, Multicooker24.ru, F-expert.ru, and many others. These websites are not considered malicious. Nevertheless, researchers have found that the same server also hosts Mysearchengine.ru which is almost identical to Searchgoog.ru and is nothing short of a clone. Therefore, we believe that we will see more browser hijackers of this kind making an appearance soon and the developers of such sites create dozens of them to generate as much revenue as possible.
Like most browser hijackers, Searchgoog.ru is known to be distributed using bundled installers that either feature Searchgoog.ru only or with an accompanying browser extension. However, our security experts have yet to find a sample of a browser extension that features Searchgoog.ru. Either way, regardless of whether this hijacker comes with a browser extension or not, the bundled installer injects it into the web browser secretly, so you cannot deselect its installation.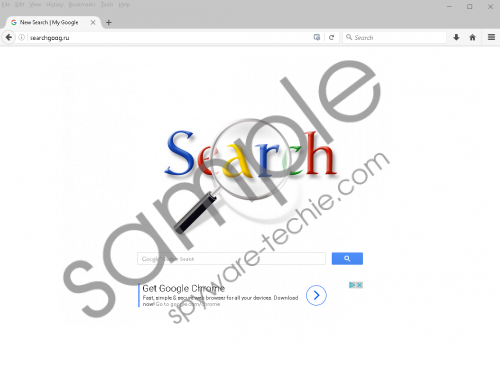 Searchgoog.ru screenshot
Scroll down for full removal instructions
Researchers say that that this particular search engine and its browser extension should be installed on Google Chrome, Mozilla Firefox, and Microsoft Internet Explorer. Once on your computer, this hijacker is set to become your browser's homepage address, and when it does, you may be inclined to use it as a regular search engine. In actuality, it even looks similar to Google.com and even uses Google Custom search to process your entered search queries. However, it is set to feature a banner ad below the search box which can feature links to questionable websites. Also, this hijacker's customized search results may also feature shady promotional links that can redirect you to scam sites or websites that feature malicious software or pirated content.
In order to present you with customized promotional links which are unsafe as they are, Searchgoog.ru was configured to collect anonymous information about you that includes but is not limited to you IP address and subsequently your approximate geographical location, as well as your browsing history, entered search queries, browser type, and operating system type. All of this information is collected using web beacons and browser cookies and apart from being used to tailor the promotional links, it can also be shared with third parties which is something you should not want.
Therefore, we highly recommend that you remove Searchgoog.ru from your computer entirely. Our researchers have concluded that it is distributed in a malicious manner, its search results are unreliable and can even be malicious, and it collects information about you. To get rid of this hijacker, follow the removal guide below and do not forget to scan your entire PC with an antimalware tool to ensure that it is malware-free.
Fix the Target line
Right-click the web browser's shortcut.
Select Properties and open the Shortcut tab.
Erase http://searchgoog.ru from the Target line.
Click OK.
Reset your browser to default
Microsoft Internet Explorer
Open the browser.
Simultaneously press Alt+T.
Click Internet Options.
Select the Advanced tab and click Reset.
Tick the checkbox.
Click Reset and then click Close.
Mozilla Firefox
Open the browser.
Simultaneously press Alt+H.
Select Troubleshooting Information.
Click Refresh Firefox.
Click Refresh Firefox again in the dialog box.
Click Finish.
Google Chrome
Open the browser.
Simultaneously press Alt+F.
Click Settings and click Show advanced settings.
Click Reset settings and click Reset.
In non-techie terms:
Searchgoog.ru is a malicious search engine that we have classified as a browser hijacker due to its malicious distribution methods. Apart from that, it is dangerous because of the content it is apt to promote. Furthermore, it is designed to collect information about you to customize the advertising campaign to make the promotional links more appealing. All things considered it is a potential security risk and we recommend that you remove it.