Do you know what Searchespro.com is?
Searchespro.com is a browser hijacker that is absolutely useless. Although it boasts of the ability to provide users with "an enhanced online search experience," we can tell you right off the bat that this is a lie. This search tool is only capable of redirecting you to Bing Search at bing.com, and that cannot be considered as a beneficial service. If you want to see Bing search results, the only thing you should be worried about is how to replace the hijacker with it. Obviously, this tool was not created just to redirect you to a familiar search engine. Based on our research, it looks like this tool was designed to help record information about you. Needless to say, we recommend removing Searchespro.com from your web browsers, and you can learn all about the process by reading this report.
Can sponsored links and advertisements be shown via Bing Search? It is unknown if Searchespro.com is capable of modifying the results shown to you, but you have to be aware of the possibility. If unreliable ads are included in the results shown, it is possible that you could open security backdoors by opening them. What if these ads are displayed by malicious parties who are just waiting to scam you or infect your operating system? This risk is one of the reasons why we recommend deleting Searchespro.com from your web browsers. Speaking of browsers, it is most likely that this hijacker will take over Google Chrome; however, it possible that other browsers will be affected as well. When the hijacker slithers in, it takes over the homepage, which means that you will face it whenever you open your browser. If it was hijacked illegally, you must realize that you cannot trust the suspicious search tool. Unfortunately, some users are tricked into installing this tool by themselves, and these users might be confused.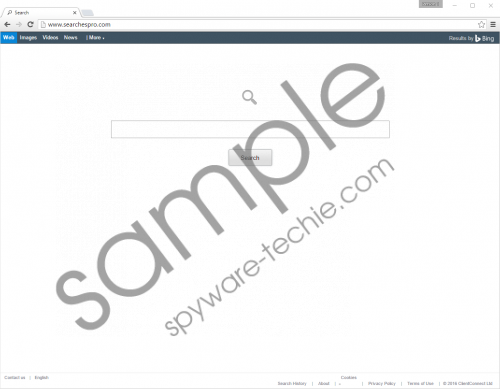 Searchespro.com screenshot
Scroll down for full removal instructions
Whether you have let Searchespro.com in yourself or it hijacked your browser without your permission, there is a possibility that third-party malware exists. Have you let in the hijacker via a software bundle? If you have, do not be mistaken by the generous promises and misleading interfaces because it all could be just a distraction. Even if malware does not exist, you might discover third-party data-tracking cookies installed. If you have checked the Privacy Policy at info.searchespro.com/privacy-policy/, you know that the hijacker can use data trackers to collect personally identifiable information as well. Moreover, it could be shared with "subsidiaries, affiliated and parent companies." These third parties could do their own research using their own data trackers as well. If you run a legitimate malware scanner, it will let you know if you need to remove any malicious programs or intrusive tracking cookies.
If you decide to delete Searchespro.com from your browsers – and that is what we strongly advise – you have to figure out which browser was infected. As mentioned previously, it is most likely that you will find it on your Chrome browser. In case you have downloaded this search tool along with the Searches Pro extension, you need to delete it first. Quite possibly, the hijacker will disappear along with the add-on. Hopefully, you will have scanned your operating system before starting the removal process. This is important in case much more dangerous threats are active. If they are, we advise employing anti-malware software to get rid of all threats automatically.
Remove Searchespro.com from browsers
Google Chrome
Open the browser and tap keys Alt+F.
Select More tools and then select Extensions.
Click the recycling bin next to Searches Pro and select Remove.
In the menu on the left click Settings.
Under On Startup select Open a specific page or set of pages.
Click Set pages and overwrite the undesirable URL. Click OK.
Internet Explorer
Open the browser and tap keys Alt+T.
Select Internet options and then click the General tab.
Overwrite the URL in the Home Page section and click OK.
Mozilla Firefox
Open the browser and tap Alt+T keys.
Select Options and then navigate to the General menu.
Overwrite the URL represented in the Home Page section.
In non-techie terms:
While the interface of Searchespro.com suggests that it is just another regular search tool, it should not take you long to realize that it is unreliable. First of all, it redirects your search queries to Bing Search, and that makes this search provider pointless. After all, you can easily replace it with bing.com for the same effect. What is more, it might be unsafe to interact with the search results shown because they could be modified to promote third-party offers. You also have to remember that this hijacker could potentially collect and leak information that is personally identifiable. Due to these reasons, we encourage you to delete Searchespro.com immediately.