Do you know what Searchbent.com is?
Searchbent.com might seem like a legitimate, authentic search provider at first, but it will not take you long to realize that it does not work the way you might have expected. This supposedly reliable search tool is completely worthless as it cannot find any search results, regardless of which search keyword you enter into the allocated dialog box. That is the main reason why our research team advises deleting Searchbent.com from the browsers. It is not fully known which browsers this search tool might be installed on, but we know that it is compatible with the most popular ones: Mozilla Firefox, Google Chrome, and Internet Explorer. If any of these browsers on your computer were affected by the strange search tool, you need to continue reading. We discuss the information we have gathered while analyzing the search provider, and it will help you decide whether or not you need to remove it from your own web browser.
It looks that Searchbent.com can replace the homepage of your web browser after you execute a software bundle. Since this search tool does not travel on its own, you might find it packaged with other attractive programs. While we do not claim that the software bundled with Searchbent.com is malicious, you should not make any assumptions just by looking at these programs or the information that is introduced to you by the installer. Do your own research and install a malware scanner to figure out if the software installed on your PC is malicious or not. Considering that malicious installers can hide behind any corner, the chances of you finding the suspicious search tool bundled with malware are pretty high. Of course, you can be sure only if you run a full system scan. It is wise to scan your operating system right away so that if dangerous infections exist, you can stop them from harming your computer and your personal data, or putting your virtual security at risk in time. The good news is you can focus on the removal of other threats before you get to the search tool.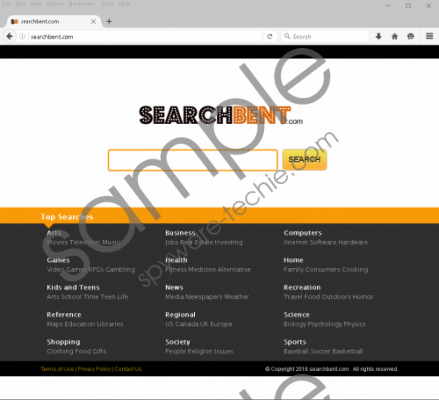 Searchbent.com screenshot
Scroll down for full removal instructions
As you might have discovered yourself, Searchbent.com does not work as a search provider. In general, it looks like this search tool has no purpose at all; however, the reality is that data-tracking tools are installed along with it. As long as they are installed, they can track your virtual activity, and that is something you might not be comfortable with. Do you want an unfamiliar search tool spying on you? Even worse, third-party data trackers could be employed as well without much of your knowledge. The thing is that when you agree to install the search tool, you also agree with the privacy policies and terms of use. Needless to say, you should familiarize yourself with these statements before you install the tool, but, unfortunately, most people do not pay any attention to legal information altogether. This is why malware is thriving.
Just like Discoveranswer.com, Currentexplore.com, and other suspicious search tools that come from the same family, Searchbent.com deserves removal. If you agree with us, you can follow the instructions below to replace the undesirable homepage with something more useful and reliable. You do not need to employ a search engine to open up on startup, but the main rule is that you set a reliable page. Once you remove Searchbent.com from the browsers, you must get rid of the remaining threats (if they exist, of course). If you are unable to identify and eliminate malicious threats, it is high time you installed anti-malware software. If you choose to go on manually, do not forget to scan your PC one more time after you have cleaned it just to make sure that everything is alright.
Delete Searchbent.com
Internet Explorer
Open the browser, tap Alt+T keys, and choose Internet options.
Click the General tab on the left and then move to the Home Page section.
Overwrite the undesirable URL, click OK, and then restart the browser.
Google Chrome
Open the browser, tap Alt+F keys, and then select Settings.
Go to On Startup, mark Open a specific page or set of pages, and hit Set pages.
Overwrite the undesirable URL, click OK, and restart the browser.
Mozilla Firefox
Open the browser, tap Alt+T keys, and then choose Options.
In the menu on the left click General and then find the Home Page section.
Overwrite the undesirable URL and then restart the browser.
In non-techie terms:
Although Searchbent.com looks like a regular search provider, it does not work, and that is not the only reason we advise removing it from your browsers. This search tool comes packaged with data trackers (e.g., HTTP cookies), and they might spy on you whenever you use your browser. Once you replace the unwanted homepage with the preferred option, you should also take care of the tracking cookies that might have been installed. You can tap Ctrl+Shift+Delete on the browser to open a menu that will allow clearing the cache and deleting tracking cookies. If you have any questions about the processes and operations mentioned in this report, please use the comments section to start a discussion.