Do you know what Search.tr-cmf.com is?
Search.tr-cmf.com can take over your homepage, the gateway to the World Wide Web. Whether it is done with your permission or the search tool hijacks the browser without your knowledge, you need to understand the risks you might face by interacting with it. Our research team has recently tested this threat in our internal lab, and the conclusion is that removing it is very important. If you are not convinced that this is the route you need to take, you should read this report. Even if you want to delete Search.tr-cmf.com right now, we suggest reading because you might find some interesting and valuable information. As always, we accept questions about the infection and its elimination via the comments section below.
Did Search.tr-cmf.com enter your operating system on its own or was it installed along with third-party software? It is very unlikely that you have installed it by itself, and the chances are that malware was bundled along with this hijacker. If you need help figuring this out, you can install a malware scanner. Whether your browsers are corrupted by Search.tr-cmf.com or any of its clones (e.g., Search.nw-cmf.com, Search.we-cmf.com, or Search.searchlttrn.com), you have to inspect your operating system because you do not want dangerous infections to run freely. Whether you uncover Trojans, adware, or simple PUPs, you need to delete them from your operating system as soon as possible. If you do not do that, your virtual security could be jeopardized before you understand what is going on.
Do you consider Search.tr-cmf.com a reliable search assistant? Although it promotes easy-access links to popular websites, you should not identify it as a trustworthy search provider because it is just another worthless redirector. When you enter keywords into the allocated search box, you are redirected to the Yahoo Search engine, and the results shown can be modified. Of course, because this search provider is well-known and popular, you might think that it is completely safe to interact with the search results shown. Unfortunately, you might get yourself into trouble by interacting with these search results because they might route to malicious sites, promote fake shopping deals, and introduce you to unreliable installers. The devious Search.tr-cmf.com could modify the regular Yahoo Search results to promote sponsored links, and that is neither helpful nor safe. Needless to say, this is exactly why we advise removing this hijacker.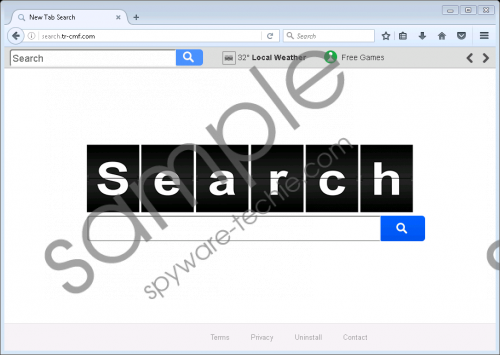 Search.tr-cmf.com screenshot
Scroll down for full removal instructions
Are you prepared to remove Search.tr-cmf.com from your web browsers? According to our tests, it is possible to erase this hijacker manually by modifying the homepage settings. If you have acquired the search tool along with an add-on, we suggest you delete it first because that might automatically erase the hijacker as well. Although this should be enough to erase the hijacker, you must install a malware scanner just to make sure that no undetected leftovers (e.g., unreliable tracking cookies) remain present. A reliable scanner can also help you find and identify other malicious threats that might be active. If you realize that your operating system is corrupted by malware that you do not know how to eliminate, install an automated malware remover. Make sure you choose a legitimate and up-to-date tool because the web is full of fake security tools that are used to scam users into wasting money.
Remove Search.tr-cmf.com
Mozilla Firefox
Launch Firefox and tap Alt+T.
Select Options to open a menu in the new tab.
In the menu on the left click General.
Change the URL in the Home Page section.
Restart the browser and then perform a full system scan.
Internet Explorer
Launch IE and tap keys Alt+T.
Select Internet options.
Click the General tab and locate the Home Page section.
Overwrite the undesirable URL and click OK.
Restart the browser and then perform a full system scan.
Google Chrome
Launch Chrome and tap keys Alt+F.
Select Settings to access a menu in the new tab.
Move to the On Startup section.
Check Open a specific page or set of pages and click Set pages.
Overwrite the undesirable URL and click OK.
Restart the browser and then perform a full system scan.
In non-techie terms:
Search.tr-cmf.com is a browser hijacker that we recommend deleting from your web browsers as soon as possible. You should be able o get rid of this infection by modifying the homepage settings – and that is very easy to do if you follow the guide above – but using a malware scanner is imperative. This tool will let you know if you have overlooked any malicious components, as well as other threats. Considering that the hijacker is likely to travel bundled with third-party software, there is a great possibility that a scanner will detect other threats that will require removal. If you do not want to invest in anti-malware software that can erase malware and protect you against it in the future, you will have to erase these threats yourself. Check our website to find the removal guides that will help you erase these threats, or use the comments section below to ask us questions.