Do you know what Search-startpage.com is?
Search-startpage.com has the look of a search provider, but that is just the exterior. If you look at this strange search tool – which is currently spreading across the US – closer, it becomes apparent that it was potentially created to collect data regarding your behavior and assist unknown third parties. Do you think that this Bontio Inc. product is officially linked to Google? Although the tool uses Google Search as its main search provider, there is no reason to believe that Bontio and Google have any sort of partnership. In fact, it is more likely that the creator of the search tool is exploiting the most popular search provider on the web just to make you use its services, which, of course, are useless. We advise deleting Search-startpage.com right away, and if you agree with us, you can check out the removal guide below. If you have questions, read this report, and if your questions remain unanswered, start a discussion in the comments section at the bottom of the page.
If Search-startpage.com has corrupted your browsers without any warning, there is no doubt that it is operating in an illegal manner, and that should be enough for you to realize that it deserves removal. Now, if you have given the permission for this suspicious search tool to take over the homepage or default search provider, you might have a hard time understanding that it might be untrustworthy. We will discuss this more right away, but, first, we have to talk about distribution. Our biggest concern is that you might have let Search-startpage.com in along with malicious infections. This is not a given, but you have to rule out the activity of malware, and we suggest doing that with the help of a malware scanner. If any dangerous threats are active, you will find out as soon as the scanner is done inspecting your operating system. Hopefully, malware is not discovered; however, if it is, make sure you figure out which threats require removal first. If a scanner detects malicious tracking cookies, use the removal guide below because it is enough to reset the browsers to get rid of cookies.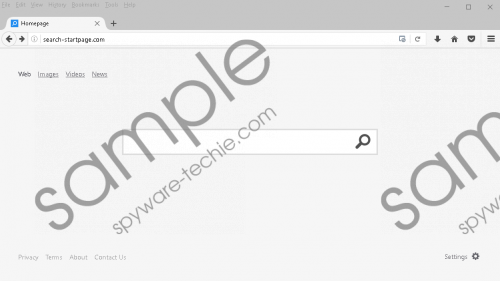 Search-startpage.com screenshot
Scroll down for full removal instructions
Did you know that Search-startpage.com could potentially showcase advertisements? Though the Privacy Policy supporting the search tool does not mention anything about ads, our research team warns that the potential is there. Advertisements could even be injected in the search results shown to you via google.com. We have seen plenty of browser hijackers and suspicious search tools that exploit well-known search engines to promote unreliable links without much warning. If Bontio includes sponsored links, how will you know if they are represented by it or by Google? Because there is a possibility that ads representing unpredictable content could be shown to you, you have to consider removing Search-startpage.com from your browsers. In general, the biggest reason to get rid of this search tool is its inability to serve you in a beneficial manner. Why would you want to use a tool that can only redirect your search queries? Now that is what we call a useless piece of software.
We do not identify Search-startpage.com as a serious threat, and it is up to you to decide if you should delete it from your browsers. Of course, considering that it does not seem to offer beneficial services, we are sure that you want to get rid of it ASAP. When it comes to the removal of Search-startpage.com, we suggest resetting the browsers (see guide below). However, in case dangerous threats are found, the best decision would be to install software capable of eradicating malicious threats and maintaining virtual security hereafter. We advise investing in a legitimate anti-malware tool.
Delete Search-startpage.com
Internet Explorer
Launch the browser.
Tap keys Alt+T and select Internet options.
Click the Advanced tab.
Click the Reset button.
Choose Delete personal settings.
Click Reset again.
Restart the browser.
Google Chrome
Launch the browser.
Tap Alt+F keys and select Settings.
Navigate to the bottom of the menu.
Click Show advanced settings…
Scroll to the bottom of the menu.
Click the Reset settings button.
Click Reset.
Restart the browser.
Mozilla Firefox
Launch the browser.
Tap keys Alt+H.
Click Troubleshooting Information.
Click the Refresh Firefox button.
Click Refresh Firefox again.
Restart the browser.
In non-techie terms:
Although Search-startpage.com appears to be relatively harmless – unless it starts recording personal data or showcasing potentially unreliable ads and links – it is not beneficial, and we are sure that you can find a much better and more trustworthy search provider to greet you upon browser launch. If you agree, go ahead and reset your browsers to get rid of the suspicious search tool and the data-tracking tools it might have employed. Also, do not forget to set up a security system to protect your operating system against suspicious, potentially malicious threats that might attack in the future.