Do you know what Search.nw-cmf.com is?
Search.nw-cmf.com is a potential security issue that can turn your computer life upside down. It is an intrusive program that will modify your browser settings without your permission. The danger of getting infected with a browser hijacker is that users often do not realize how destructive such a program can be. Nevertheless, in this description, we will show you how to get rid of this program, and what you should do to avoid Search.nw-cmf.com and other similar infections in the future. It is important that you protect your system from all types of cyber threats.
When we deal with infections that come from big software families, we can apply the same behavioral symptoms to several applications from the group. Likewise, we basically know what to expect from Search.nw-cmf.com because this browser hijacker belongs to the same group of similar infections as Search.yourmapscenter.com, Search.youremailnow.com, Search.yourclassifiedscenter.com, and others. When there are many programs in the same group, it is very likely that they are direct clones of one initial application, and the creators do not bother much to improve or develop this program. It is good news for us because then the removal of this intruder does not get complicated.
However, before we head straight to the removal process, we should also find out how Search.nw-cmf.com managed to slither into your computer. There is no direct distribution source where you could add this "search engine" to your browser. Perhaps that is logical because who would want a browser hijacker on their system anyway. That does not stop this intruder from entering multiple systems worldwide though. Just like many other programs of a similar profile, Search.nw-cmf.com employs third-party websites and software bundles to reach their targets. It means that users download the software package that carries the installer file for this browser hijacker willingly.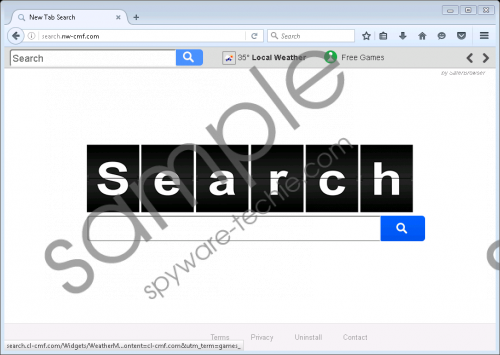 Search.nw-cmf.com screenshot
Scroll down for full removal instructions
Needless to say, users are not aware of the fact they are about to install an unwanted application. Perhaps they are too focused on some other program they have been looking for. Yet, if they were to check out all the steps in the installation wizard, perhaps they would notice additional clauses that inform them about this browser hijacker. Alas, most of the time, users tend to skip most of the installation steps to get down to business as soon as possible. As a result, the likes of Search.nw-cmf.com manage to enter multiple target systems worldwide.
What happens when Search.nw-cmf.com changes your browser settings? First, the hijacker starts collecting data on your web browsing history. It employs tracking cookies to collect this information. At first glance, it does not look malicious at all. In fact, quite a few websites employ the same tactic to check your browsing history for customized content delivery. The problem with Search.nw-cmf.com is that the browser hijacker does not have any control over the third-party content. It may try to expose you to customized links and online topics, but it cannot guarantee that the third-party websites you visit are safe.
This is one of the most important reasons you need to remove Search.nw-cmf.com. It is true that the program itself is more annoying than dangerous, but you should not take any chance in this. Although the chance of malicious infection is very slim, it is still there. It is possible to get infected with malware through a browser hijacker that gets exploited by cyber criminals. Those links you see among your search results might as well be rigged. For the most part, they will be links leading to online marketing websites. You will help them increase their traffic, and the people behind Search.nw-cmf.com will get paid for that. If the worst happens, some of those links will lead you to sites that distribute malware.
You can remove Search.nw-cmf.com from your computer by restoring the Internet Explorer settings to default. For Chrome and Firefox, you just have to remove the extensions associated with the hijacker. However, do not forget other unwanted programs that might have entered the system together with this threat. Run a full system scan with a legitimate antispyware tool, and if it detects any unwanted apps, make sure you delete them for good. Your computer's security is on your own hands.
How to Delete Search.nw-cmf.com
Chrome
Press Alt+F and go to More tools.
Open Extensions and delete undesirable plug-ins.
Internet Explorer
Press Alt+T and click Internet options.
Open the Advanced tab and press Reset.
Mark Delete personal settings and click Reset.
Click Close.
Firefox
Press Alt+T and select Add-ons.
Open the Extensions tab and remove unwanted plug-ins.
In non-techie terms:
Search.nw-cmf.com takes over your browser and you see unfamiliar logo on your screen. It means that there are unwanted programs on your computer. These programs could easily lead to serious problems. So you need to remove Search.nw-cmf.com and everything associated with it. If you are not sure how to do that on your own, you should acquire a good security program that will delete everything for you automatically. For any further questions, do not hesitate to leave us a comment.