Do you know what Search.newtab-mediasearch.com is?
Search.newtab-mediasearch.com is classified as a browser hijacker because users are forced to install it when downloading the Media-Newtab (or Newtab-Media) extension developed by Imali Media. The services of the extension are kind of misleading, which is why it is believed that most users acquire the extension and the search tool bundled with it due to false promises. Can you trust a program that promotes itself in a potentially misleading manner and that can force you into installing a suspicious browser hijacker? Surely, you cannot. If you are having problems understanding why we suggest removing Search.newtab-mediasearch.com from your Mozilla Firefox and Google Chrome browsers, this article will assist you greatly. Please continue reading, and do not forget to take note of anything that is unclear for you because we encourage our readers to start a discussion in the comments section below.
At the moment, Search.newtab-mediasearch.com is spreading bundled with the Media-Newtab add-on, which is officially represented at newtab-media.com. Here, the add-on is introduced to potential users as a tool that enables them to watch full episodes of their favorite TV shows. Can this extension provide you with exclusive content you cannot get elsewhere? On the contrary, it simply adds easy-access links to Hulu, Netflix, and sport-related streaming services, most of which require paid subscription. Also, this extension displays links to entertainment-related sites, such as rottentomatoes.com or imdb.com, as well as social networking sites, including facebook.com and instagram.com. All of these links are represented with the help of Search.newtab-mediasearch.com, a browser hijacker that might take over the New Tab, homepage, and default search provider on Chrome and Firefox browsers. Many users delete the extension and search tool just because it can hijack their browsers.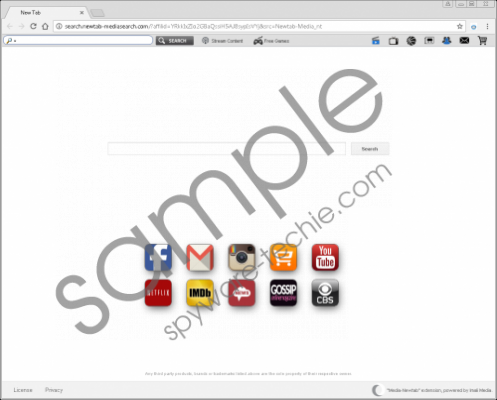 Search.newtab-mediasearch.com screenshot
Scroll down for full removal instructions
Although Imali Media promotes Media-Newtab via an official site, this extension is distributed via software bundles that might show up via misleading pop-up advertisements. Other Imali Media extensions and hijackers (e.g., Play-bar-search.com or Search.realcoolmoviessearch.com) are spread in the same way. Needless to say, if this software comes bundled with unreliable programs, you should think if it is reliable. If you ignore this, maybe you will realize that Search.newtab-mediasearch.com is strange when you try surfing the web. This seemingly normal search tool redirects all search queries to the modified search results page of Yahoo Search. Can you trust the results shown? The call is yours, but we do not recommend trusting them because you do not know what kind of content Imali Media is paid to promote. The chances are that this company is affiliated with third-party advertisers who might be promoting useless offers or who might hide malicious links behind alluring ads.
There is no doubt that deleting Search.newtab-mediasearch.com is the right move. This browser hijacker might not seem so dangerous, but you have to admit that it is not useful or reliable. Why would you want to interact with a search tool that cannot even be trusted? If the extension has misled you, and your browser was hijacked against your wishes, we are sure that you will have no reservations about the removal of Search.newtab-mediasearch.com. However, even if you enjoy the services provided to you by this software, we can assure you that you can find much better alternatives. Right now, you need to figure out which way to move: Will you erase the unwanted software manually (see the guide below) or will you trust legitimate anti-malware software?
Remove Search.newtab-mediasearch.com
Mozilla Firefox
Launch Explorer by simultaneously tapping Win+E keys.
Enter %AppData%\Mozilla\Firefox\Profiles\ into the bar at the top.
Open the folder with random characters in the name that represents your Firefox Profile.
Open the extensions folder.
Delete the file named Media-Newtab-the-extension1@mozilla.com.xpi.
Go back to the profile folder and open the prefs.js file (use Notepad).
Replace the hijacker's URL with the desired URL and save the file.
Google Chrome
Launch Explorer by simultaneously tapping Win+E keys.
Enter %LOCALAPPDATA%\Google\Chrome\User Data\ (Windows XP users need to enter %UserProfile%\Local Settings\Application Data\Google\Chrome\User Data\) into the bar at the top.
Open the Default folder or the folder that represents your unique Chrome Profile folder.
Open the Extensions folder.
Delete the folder named kjiaabknifdfahfdjcjejlnlhfhamnco.
Go back to the Default/Profile folder and then open the Local Storage folder.
Delete the files named chrome-extension_kjiaabknifdfahfdjcjejlnlhfhamnco_0.localstorage-journal and chrome-extension_kjiaabknifdfahfdjcjejlnlhfhamnco_0.localstorage.
Also, Delete the files named Preferences and Secure Preferences (you can also open these files using Notepad and replace the hijacker's URL with the desired URL).
In non-techie terms:
Do you trust Search.newtab-mediasearch.com? This search tool might look normal, but it becomes more and more suspicious the longer you look at it. First of all, this search tool might replace your regular homepage and default search provider against your wishes. Second, it does not produce search results. It simply reroutes your searches to Yahoo Search, and, on top of that, the results might be modified to include sponsored links. Finally, you have to consider the fact that this search tool is the only feature of a supposedly beneficial extension that has proven to be useless. Sure, it provides easy-access links to legitimate site, but that does not make it useful. Our recommendation is to remove Search.newtab-mediasearch.com from your browsers, and you can do it manually using the guide above or using legitimate anti-malware software.