Do you know what Search.klivs.com is?
Search.klivs.com may look like a safe and reliable search engine, but the truth is that it is nothing less of a browser hijacker because it can get on your computer via deceptive methods only. Our security experts recommend that you remove it from your browser because it poses a real threat to the security of your computer. Not only is it distributed in a malicious manner, but its search results are apt to feature questionable and even malicious promotional links. Furthermore, it can gather anonymous information about you to tailor the promotions and make more money.
Before we discuss what Search.klivs.com does and why it is a threat to your computer's security, we want to talk about its origins and distribution methods. Now, as far as its origins are concerned, this hijacker has been around since 2014, but it was and still is so unpopular that it slipped under the radar and it is only now that we noticed it. Unfortunately, after all, this time there, is no information about the entity that created it. Nevertheless, we have found that its registrar is none other than Godaddy.com LLC and that this hijacker was last modified on 06 November 2015. Evidently, the company that owns this malicious search engine has opted to stay in the shadows to avoid legal issues that may arise from the malicious content that this hijacker can promote.
Malware researchers have found that, like many other browser hijackers, Search.klivs.com is also disseminated using malicious bundled software installers. Such installers are known to install their additional shady applications and browser hijackers automatically, and unlike legitimate installers, they do not offer you to deselect the installation of possibly unwanted content. You can come across such bundles on questionable and lesser-known software distributing sites that make money of bundling freeware and open-source software with malware, such as adware or browser hijackers. Note that Search.klivs.com does not come with a browser extension, but is rather installed by the malicious installer directly. Now that we know how it is distributed let us move on to how this hijacker works.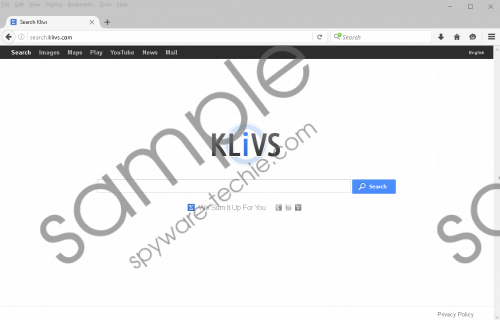 Search.klivs.com screenshot
Scroll down for full removal instructions
We have no doubt that Search.klivs.com was created with the sole purpose of hijacking your browser's homepage to force you to use it and make its developers money as a result. Our researchers believe that this hijacker should hijack the homepages of Google Chrome, Mozilla Firefox, and Microsoft Internet Explorer. Researchers have also concluded that this hijacker uses Google Custom search to process the entered search queries and present you with search results. However, the bad news is that this hijacker's secretive developers have the ability to customize the search results and include promotional links. There is no telling whether these links are legitimate and there is a small chance that some of them are dangerous and can expose your computer to danger. For this reason, alone we advise to change the homepage address to another one, but there is one more issue we want to cover.
Like all browser hijackers, Search.klivs.com has also been designed to collect anonymous information about you. Its privacy policy clearly states that can automatically collect information such as "your IP address, browser type, internet service provider (ISP), cookie information, and the webpage that a user visits." It also states that it collects information for "analyzing trends, administering the site, tracking user movements, conducting research, and providing anonymous reporting to internal and external clients." It is clear as day that the information is used to present you with tailored promotional links and its owners can even share this information with third parties. Even though this information is of non-personal nature, you should not allow them to obtain it as it can be misused.
In summary, it is a highly unreliable search engine that our researchers have deemed a browser hijacker due to its dissemination method. Researchers have also concluded that it can collect information about you and use it to tailor promotional links that are set to be shown in the search results. Therefore, we recommend that you remove Search.klivs.com and you can use the guide below to do this.
Got to change your browser's homepage
Mozilla Firefox
Hold down Alt+T keys.
Click Options and select General.
Enter a new URL in the Home Page box.
Google Chrome
Hold down Alt+F keys.
Select Settings.
Click Set pages and enter a new URL.
Click OK.
Microsoft Internet Explorer
Hold down Alt+T keys.
Select Internet Options.
Enter a new URL in the home page address line.
Click OK.
In non-techie terms:
Search.klivs.com may look like a search engine, but it is more than that and not in a good way. Our researchers have classified it as a browser hijacker because of the way its developers chose to distribute it. Furthermore, it can promote rather questionable sites that could jeopardize your computer's security and your privacy. Therefore, to be on the safe side, we recommend that you remove it.