Do you know what Search.classifiedlist.net is?
According to our cyber security specialists, Search.classifiedlist.net is a highly unreliable and even malicious search engine, first of all, due to its distribution method, and ,second of all, due to its ability to show promotional links in its search results and gather information about you. Therefore, if it has hijacked your browser's homepage, then we suggest that you remove it from your PC as soon as the opportunity arises because there is no telling what kind of content this hijacker might promote.
Search.classifiedlist.net comes from the SaferBrowser browser hijacker family. Many more browser hijackers are a part of this family, and they include the likes of Search.mynewswire.co, Search.searchtrmypa.com, and Search.searchlen.com, among others. All of them look and work the same, and some of them are probably hosted on the same server. Their developers make sure to have a steady stream of hijacker releases because some antimalware applications are quick to recognize and delete them when identified. As far as more detailed information regarding its origins is concerned, well, there is not much of it. The company behind Search.classifiedlist.net and other hijackers is unknown, and SaferBrowser is no company, but a brand name.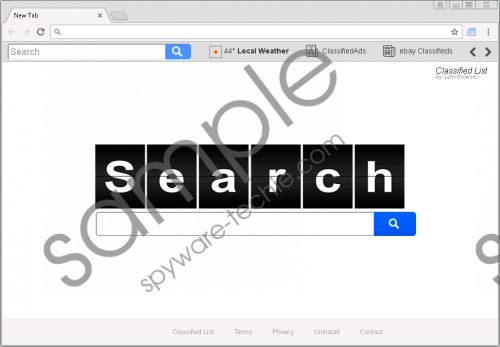 Search.classifiedlist.net screenshot
Scroll down for full removal instructions
Our security experts have received information claiming that Search.classifiedlist.net is distributed via pop-up advertisements presented by unspecified adware-type software. They say that this hijacker also comes with a dedicated browser extension called Classifieds on Mozilla Firefox and Classified List on Google Chrome. The pop-up ads download this extension when they are clicked, and the extension is designed to replace your browser's homepage address automatically. Hence, it will not allow you to make the decision on whether you want it and that is why our site has classified Search.classifiedlist.net as a browser hijacker.
The reason for hijacking your browser's homepage in the first place is to force you to use it as a regular search engine, and it can pass over as such. However, it is no unique search engine because it redirects all entered search queries to a customized Yahoo search engine. Our researchers say that this hijacker's search results are customized to feature additional promotional links coming from the browser hijacker's developers or their advertising partners. Whatever the case may be, we want to warn you that the search results can feature links to potentially dangerous websites that may feature malicious content such as malicious software that can cause damage to your computer.
It is also important to note that this hijacker is capable of gathering information about you. Now, it can only collect non-personal information automatically which includes your browsing history, IP address, entered search queries, operating system type, browser type, Internet Service Provider (ISP) name, and so on. Nevertheless, if you contact the developers via email or some other platform, any personally identifiable information you disclose about yourself will be used for advertising and marketing purposes to generate as much income as possible because customized search results are more profitable. However, given its origins and the way its collected information is used, we recommend that you get rid of Search.classifiedlist.net.
In closing, Search.classifiedlist.net is a highly unreliable search engine that is distributed in a highly malicious manner, and once it replaces a browser's homepage address, it shows promotional links in its search results and collects information all in the name of generating income for its developers and their advertising partners. Therefore, we recommend that you remove it just to be on the safe side of things because there is no telling what this hijacker will promote next. Please refer to the guide below for more information.
Removal Guide
Mozilla Firefox
Press Ctrl+Shift+A.
Click Extensions.
Find Classifieds and click Remove.
Press Alt+T and click Options.
Change the homepage URL.
Google Chrome
Press Alt+F.
Select More tools.
Click Extensions and Remove Classified List.
Then, press Alt+F again.
Select Settings.
Locate the On Startup list and click Set pages.
Change the homepage URL and click OK.
In non-techie terms:
Search.classifiedlist.net is a browser hijacker that can replace your browser's homepage if you click a malicious pop-up ad. Once on your browser, this hijacker will work like a regular search engine, but its search results can feature promotional links that can jeopardize your computer's security. Therefore, we recommend that you remove this malicious search engine from your PC to avoid undesirable consequences that may arise as a result of using it.