Do you know what SavingsCool is?
SavingsCool is a potential computer security threat that enters your system when you expect it the least. It does not look like a dangerous infection, and the chances are you will not even notice this application at first. This program is an adware application, and as such it will try to promote commercial content to lure you into clicking its ads. Although it makes money out of that, there is nothing for you in return. In fact, it may even result in a malware infection (in the worst cases), so if you care about your system's security, you will remove SavingsCool at once.
We think that you should know how this application enters your computer so that you would be able to avoid similar intruders in the future. Adware programs often employ similar distribution methods, and if you know what to look out for, you should be able to protect yourself from such threats.
One, SavingsCool and similar adware applications might try to prove they are reliable tools by having an official homepage. However, these websites are usually no more than empty shells created to look nice and make a good first impression. As far as savings.cool is concerned, the page does not even open properly. So whatever the impression this application wanted to convey, it failed miserably. On the other hand, it does not even need the official homepage because it uses other ways to reach your PC.
Most of the adware and freeware applications are distributed in software packages. It means that you download one installer on your computer, and this installer contains several programs. Perhaps you were not even planning on having SavingsCool, and you were focused on some other application. Think about it: Have you recently downloaded anything from a third-party site? If so, then the chances are that this adware application came with this one freeware app you have been looking for.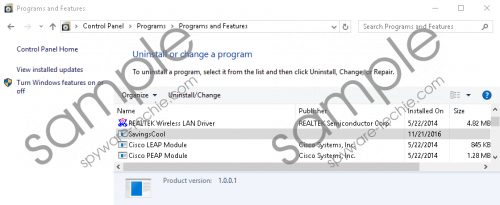 SavingsCool screenshot
Scroll down for full removal instructions
Normally, the installation wizard gives you the chance to avoid installing unwanted apps, but even so, users fail to grasp this opportunity by skipping through the steps. Eventually, SavingsCool and other undesirable applications are installed on your computer. While this does not spell severe danger, there are still specific security issues you have to consider.
For instance, SavingsCool is an adware application. So it means that it can use tracking cookies to monitor your online activity. Albeit it cannot log your key strokes, the application will soon know which sites you frequent, and what keywords you see for your web searches. What will it do with this information? It will use it for online marketing purposes.
SavingsCool employs the wcmasc.exe (32bit) process to generate commercial advertisements. These advertisements may appear on your browser in many forms. That could be pop-ups, pop-under, in-text, links, and so on. The constant flow of commercial ads can slow down your browser, consequently exposing you to unreliable third-party content.
Some users may find it harder to resist clicking those ads because they are bound to display something that is related to your most recent web searches. This is where the tracking comes up. SavingsCool will know what kind of content it should embed in its ads to increase the possibility of your clicking them. And the moment you click those ads, you help the adware creators to make money via the pay-per-click system.
Unfortunately, there is nothing for you in return. Even if it does seem like the SavingsCool ads redirect you to a reliable website, you also cannot forget that sometimes the ads could be embedded with malicious content, too. This can happen because the adware does not review the third-party content, and it is not subject to its privacy policy. So if cyber criminals decide to make use of this program for malware promotion, they might as well do so.
Please do not wait until this situation goes out of control. Remove SavingsCool today by following the instructions we provided below. When you are done with the manual removal, scan your PC with a licensed security application to locate other potential threats. Since this program comes bundled with freeware, you may want to detect all the unwanted apps that could cause various security issues.
How to Remove SavingsCool
Press Win+R and type %ProgramData%.
Click OK and delete boost_interprocess.
Go to Microsoft\Windows and delete WindowsCredentialManager.
Press Win+R again and type %AppData%.
Click OK and navigate to Roaming\Windows.
Delete the SavingsCool folder from the directory.
Press Win+R and type regedit into the Open box. Click OK.
Navigate to HKEY_LOCAL_MACHINE\SOFTWARE\Wow6432Node\Microsoft\Windows\CurrentVersion\Uninstall.
Remove the SavingsCool key under Uninstall.
Open HKEY_LOCAL_MACHINE\SOFTWARE\Wow6432Node.
Right-click and delete the SavingsCool and SCTab keys under Wow6432Node.
Navigate to HKEY_LOCAL_MACHINE\SYSTEM\CurrentControlSet\services.
Right-click and remove the wcmasc key under services.
In non-techie terms:
SavingsCool is a program that may accidentally expose you to a malware infection. Perhaps this situation will take you by surprise, but the moment you understand you are infected with adware, you should take the matter into your hands and take care of this issue. Please remove SavingsCool from your PC, and then protect your system from other apps that might barge in while you browse the Internet. This also implies that you have be careful about your web browsing habits because that is also part of antimalware prevention.