Do you know what Resources.next-search.net is?
Resources.next-search.net is a clone of Trovi.com and Trovigo.com. Since it does not differ much from these older search providers, it is very likely that they all belong to the same family of browser hijackers. Yes, Resources.next-search.net is known to be a browser hijacker infection because it slithers onto computers without permission and then immediately changes the settings of all the browsers. There is no doubt that your homepage and default search tool will be replaced by Resources.next-search.net too if a browser hijacker ever enters your computer. Delete it as soon as possible if your browsers' settings have already been changed. It is a must to do that because the search engine promoted by a browser hijacker infection is not trustworthy at all and, to be frank, might cause many problems. We are sure you will know more about this search tool after reading this article. Also, you should be able to remove it yourself since experts will provide useful information regarding the deletion of Resources.next-search.net in the last paragraph of this report.
There are several reasons the Resources.next-search.net removal is the best decision, according to our team of experienced researchers. First, it has been revealed that this search engine uses the modified Bing search engine created by ClientConnect Ltd. Since it is a modified version of Bing, it is very likely that it will display promotional links. In other words, it shows the modified search results that are far from those shown by trustworthy search providers. At first glance, it might seem that they are decent; however, it has become clear quickly for our specialists that these search results differ to a great extent from those shown by legitimate search providers. Resources.next-search.net displays these modified search results just to promote third-party websites. They drive the traffic to these third-party websites, so you will definitely be taken to some kind of website one day after clicking on any of these search results. Of course, the developer of Resources.next-search.net does not care at all what web pages this search tool promotes, which suggests that there is a possibility to end up on a website containing malicious software or bad links to external websites.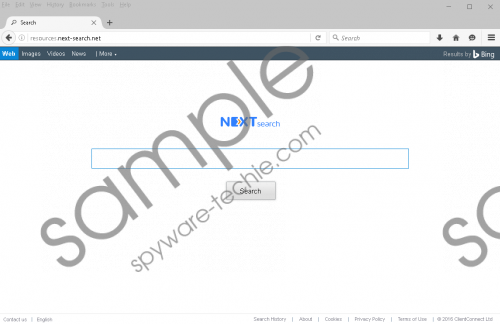 Resources.next-search.net screenshot
Scroll down for full removal instructions
Once a browser hijacker enters the computer, it not only changes the browsers' settings, but also starts collecting information about users. It is stated in the Privacy Policy that Resources.next-search.net is interested in several different types of information: technical information, usage information, information about users' social interactions on social-networking websites, registration-related information, and support-related information. This information might seem to be unimportant at first because it is the so-called non-personally identifiable information; however, the truth is that it is a huge mistake to allow Resources.next-search.net to perform this activity because the information it gathers might still contain personal details. Since it shares this information with third parties ("We may share your information with certain third parties (including, without limitation, search engines, content providers, and advertising networks and platforms)"), it means that your privacy might be quickly violated. The only way to prevent this from happening is to delete Resources.next-search.net from browsers.
It is very likely that Resources.next-search.net is not your only problem. It has been found that this browser hijacker comes bundled with MyPCBackup, One System Care, PriceFountain, and other applications that are not very trustworthy, so it is very likely that these applications have been installed on your computer next to a browser hijacker. They perform various activities behind a user's back as well, e.g. might start generating advertisements. As a result, keeping them installed is not advisable.
It should be possible to remove Resources.next-search.net from browsers by resetting them to their default settings; however, the removal of these additional programs that have been installed alongside this browser hijacker might be a really difficult task. Therefore, it would be best to let an automatic malware remover, e.g. SpyHunter to take care of them for you.
Delete Resources.next-search.net
Internet Explorer
Open your browser.
Press two buttons simultaneously: Alt+T.
Click Internet Options.
Open the Advanced tab.
Click Reset.
Enable Delete personal settings by checking the box available next to it.
Click Reset.
Mozilla Firefox
Launch your browser.
Press Alt+H simultaneously to open the Help menu.
Click Troubleshooting information.
Click Refresh Firefox you will find at the top.
In the confirmation window, click Refresh Firefox one more time.
Google Chrome
Open Chrome and go to click on the button in the top-right corner.
Select Settings.
Scroll down.
Click Show advanced settings.
Click Reset settings.
In the pop-up window, click Reset.
In non-techie terms:
There are no guarantees that another browser hijacker will never enter your computer again. Therefore, you have to take measures to prevent this from happening. Our experts have only two pieces of advice for you. First, you should choose the Advanced installation option when installing new programs so that you could see whether or not additional programs are going to be installed. Second, a reliable security application has to be installed on every computer having an Internet connection.