Do you know what Opinionfind.com is?
Opinionfind.com is a website that displays a search dialog box and a list of different search keywords that should showcase search results. Unfortunately, neither the links nor the search engine works, and that makes this site 100% useless. Needless to say, if you knew this, you would not have agreed to have your homepage modified. If you have agreed to this, you must have been tricked, and that is a good reason not to trust this search tool. As you can probably guess, we advise deleting Opinionfind.com from your browsers, and there are other reasons for that as well. Our research team has created this report to help you remove the suspicious search tool, and you should read the report first before you decide which elimination option suits your situation best.
Although we do not classify Opinionfind.com as a dangerous threat, this search tool could be linked to malware. We are talking about third-party malicious infections that could be spread along with the search provider. Needless to say, a regular-looking search tool does not seem menacing. In fact, some users might be intrigued to try it out. This is exactly why the creators of malicious installers might add Opinionfind.com to their software packages to conceal less attractive programs or more dangerous threats. Is the creator of the search tool responsible for attaching it to malware? That might be the case, but it is most likely that the ones to blame are third-party software distributors who are paid money to spread all kinds of software, malware including. So, if you have installed the suspicious search tool, please scan your operating system to make sure that malware deserving of removal does not exist.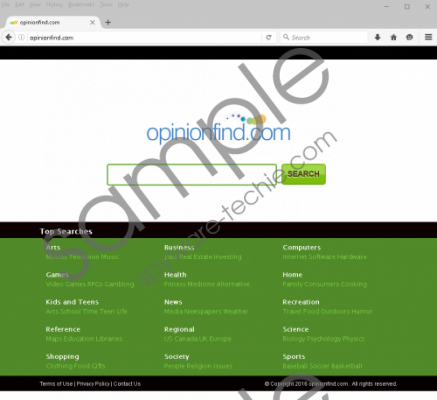 Opinionfind.com screenshot
Scroll down for full removal instructions
Even if other threats have not been infiltrated along with Opinionfind.com, there are reasons to delete this search tool. The first reason – and we have already discussed this – is that this search provider does not work, and you should not expect it to work in the future. Our research has revealed that it has many clones, including Currentexplore.com and Searchbent.com, neither of which work. The second reason to eliminate this search tool is that it might spy on you with the help of silently installed tracking cookies and web beacons. Although personally identifiable information might not be collected by these tools, do you really need a useless piece of software to record information about you and your virtual behavior? Finally, Opinionfind.com does not have a good reputation, and that cannot be overlooked. Clearly, erasing this search tool is the best decision, and we can help you with the elimination process.
If you want to remove Opinionfind.com manually, you can follow the instructions below. Also, we advise clearing the cookies, which you can do via a menu that is launched by tapping Ctrl+Shift+A keys at the same time (works on all browsers). After you believe that you have successfully erased the search tool, scan your operating system to check if no leftovers are present, as well as to check if you need to erase other unreliable pieces of software. If you find the removal task too challenging – which might happen if dangerous malware is found – we advise using automated anti-malware software. Most important is that you set the right security parameters to protect your operating system from the invasion of malware. Sure, malware might not be active on your PC right this minute, but if you do not reinforce protection, it is only a matter of time before the first infections flood in.
Delete Opinionfind.com
Internet Explorer
Launch the browser and tap keys Alt+T together.
Select Internet options in the Tools menu.
Move to the General menu.
Overwrite the URL in the Home Page box and click OK.
Google Chrome
Launch the browser and tap keys Alt+F together.
Select Settings in the menu on the right.
Go to the On Startup menu.
Mark the box next to Open a specific page or set of pages.
Click Set pages.
Overwrite the URL in the Startup pages box and click OK.
Mozilla Firefox
Launch the browser and tap keys Alt+T together.
Select Options in the Tools menu.
In the menu on your left click General.
Overwrite the URL in the Home Page box.
In non-techie terms:
Do not mistake Opinionfind.com for a beneficial search tool because it does not work like one. Our research team suggests removing this search provider because it does not work, because it is quite unpredictable, and because it can spy on you, something you will never benefit from personally. If you discover other suspicious programs on your PC and if you need reliable protection, it would be best to employ anti-malware software. If you have decided to delete Opinionfind.com manually, you can follow the instructions in the guide above. Use the comments box below if you have any questions.