Do you know what Onyx Ransomware is?
Onyx Ransomware is a dangerous threat that is targeted at Windows users who live in Georgia. It looks like this infection has not been fully developed yet, but we have come across a sample of this threat that has given us a general idea of how this threat could act in the future. If you are already dealing with this malicious infection, you need to figure out what kind of damage is has caused. If your operating system was infected with the same version that we have tested and analyzed, the only issue you have is the lockdown of your screen. Luckily, that is very easy to fix. Now, if your operating system has been infected after the threat was fully developed, it is possible that your files were encrypted. If that has happened, you have to think carefully about how to handle the situation. Of course, the ultimate goal is to delete Onyx Ransomware and protect your operating system so as to prevent other threats from slithering in. If you want to learn about this, please continue reading.
The version of Onyx Ransomware that we have tested in our internal lab is not exactly dangerous. Yes, it locks your screen to make it seem as if you do not have access to your computer. In reality, this is just an illusion! The cyber criminals behind the ransomware have created this illusion to make you focus on the misleading ransom note. This ransom note is represented via a window that locks the screen, and the main goal behind it is to trick you into thinking that your files were locked and that you need to pay a ransom to retrieve them. The funny thing is that a Bitcoin address is not added to the ransom note, which makes paying the ransom impossible. Even if you were tricked into thinking that you actually need to pay a ransom of $100, you could not do it. What if the ransomware was upgraded to encrypt your files and a Bitcoin address was revealed? Well, it is difficult to say whether or not your files would be decrypted if you followed the demands, which is why we consider paying the ransom too risky. Hopefully, your files are backed up, and you can remove Onyx Ransomware without having to worry about their decryption.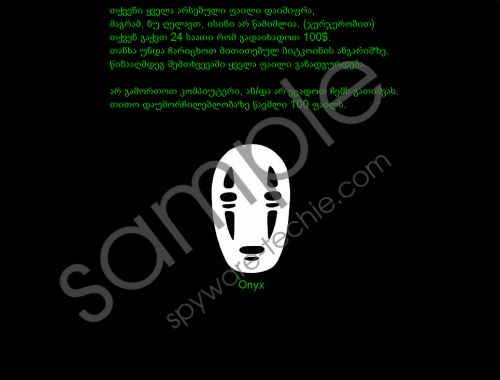 Onyx Ransomware screenshot
Scroll down for full removal instructions
The devious Onyx Ransomware blocks Task Manager, which complicates the unlocking of the screen. However, you can tap keys Alt+Tab to open a menu that allows to select a different window, and that should help you access Desktop. Once you access Desktop, you should be able to install software capable of detecting and removing the devious Onyx Ransomware. Hopefully, most users will disable the lockdown by restarting their operating systems. Because the ransomware does not create a point of execution, it will not start again after you restart your PC. Of course, this is the case with the current version of the infection, and we cannot guarantee that this is how the ransomware will work in the later stages. Needless to say, if things change, we will update this report as soon as possible. Also, you can use the comments section below to start a discussion and report the things you have discovered and noticed.
Once you unlock your screen – which you should be able to do by restarting the PC or using the Alt+Tab function – you need to delete the malicious executable controlling the entire ransomware. The file we have analyzed was called "ScreenLocker.exe", but it could be called something else in your case. Of course, you do not need to locate and erase it yourself. In fact, because there is a possibility that other infections are active, we recommend installing automated malware removal software instead. Onyx Ransomware is usually spread via spam emails, but other security backdoors could be used to place malware onto your computer. If you want to prevent this from happening, reinforce Windows protection with reliable anti-malware software. Also, do not forget to back up your files to prevent their loss.
Delete Onyx Ransomware
Press the power button to restart your computer.
Right-click the malicious file (you can detect it using a malware scanner).
Select Delete to eliminate the malicious .exe file.
Immediately download a malware scanner and perform a full system scan.
In non-techie terms:
Onyx Ransomware is an infection that informs you about the encryption of your personal files to push you into paying a ransom. At the moment, this threat is unable to encrypt files or collect ransom payments, but this could be rectified with the next update. Hopefully, your files are not encrypted, or you have your files backed up. When it comes to the removal of Onyx Ransomware, we suggest using automated malware removal software, which you should be able to install after restarting the PC. If anything goes wrong, use the comments section to start a conversation.