Do you know what Onlinefwd is?
If your home page has been changed to Onlinefwd.com without your knowledge, there is no doubt that your operating Windows system has been infected with malware.  Even though the search domain itself may seem reliable and harmless, you can never know when schemers will corrupt it in order to take over your Internet browsers. Of course, unauthorized browser hijacking is a rare symptom; however, you still need to be cautious about the source and adverts presented through it. It appears that the website acts as adware, or advertisement-supported software and you have to be extra cautious about this. Adware is a great security vulnerability that schemers use to take over operating systems. Please continue reading to learn why you may need to delete Onlinefwd related malware.
If you have used Onlinefwd.com for web searches, you know that this domain does not look or act like Google Search, Bing or other reliable and reputable search engines. It provides categories, and once you click on them, you are presented with a list of links to advertisement-related websites. Additionally, at the top you can find a search bar; however, searches performed through this tool will simply provide more ad-related search results. We urge you not to click on any advertisements because some of them could potentially be presented by cyber criminals. If after clicking on these ads your PC has slowed down, your browsers have been corrupted or you have noticed other suspicious dysfunctions – immediately install automatic spyware detection and removal software.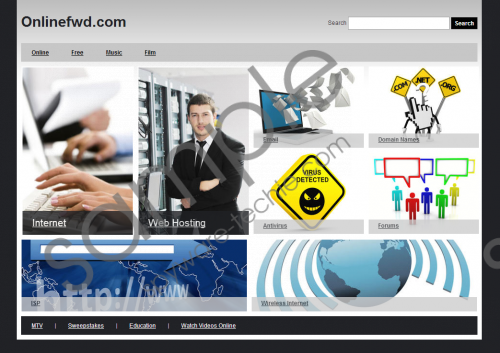 Onlinefwd.com screenshot
Scroll down for full removal instructions
Without a doubt, it is important you remove Onlinefwd adware related infections, and if you are unsure about the method which may help you succeed, we strongly recommend that you install an automatic spyware remover SpyHunter. This tool will find and delete all computer infections without taking any time. In case you have discovered unauthorized browser changes, follow the steps below to fix the situation.
Remove unwanted home page and search engine
Remove from Internet Explorer:
1. Open IE, simultaneously tap Alt+T and select Manage Add-ons.
2. Select Search Providers, click the unwanted option, select Remove and then Close.
3. Tap Alt+T again and select Internet Options.
4. Click the General tab, change the Home Page and click OK.
Remove from Mozilla Firefox:
1. Open Firefox, simultaneously tap Alt+T and select Options.
2. Click the General tab, change/remove the Home Page and click OK.
3. Click the icon placed on the search box and select Manage Search Engines.
4. Remove the undesirable provider and click OK.
Remove from Google Chrome:
1. Open Chrome, simultaneously tap Alt+F and select Settings.
2. Under On Startup mark Open a specific page or set of pages and click Set pages.
3. Overwrite/remove the set URL and click OK.
4. Under Appearance mark Show Home button, click Change and repeat step 3.
5. Go to Search, click Manage search engines and remove (click X) the unwanted provider. Click OK.
In non-techie terms:
Onlinefwd.com is a suspicious web search domain powered through adware. We recommend that you do not trust this website and remove malignant programs if they manage to enter your PC through the suspicious ads. Please post a comment below if you still have questions related to adware and spyware removal.
Aliases: Onlinefwd