Do you know what Mysearchengine.ru is?
Mysearchengine.ru is a browser hijacker that has a specific distribution area. There seems to be an entire bunch of similar hijackers that spread in specific countries, trying to infect as many users as possible. Browser hijackers are there to expose to third-party commercial content, some of which might be quite harmful. Thus, you need to remove Mysearchengine.ru from your system as soon as possible because the longer this program remains on your computer, the more collateral damage it may cause. If it is not about this browser hijacker, then it is about the third parties that can exploit it.
This happens because Mysearchengine.ru requires third-party content it can promote. The hijacker makes use of various advertising servers to generate the content, but it does not review the ads before they get online. Therefore, almost anyone can make use of Mysearchengine.ru to promote their content, and it is very common that cyber criminals embed their links in the advertising space offered by such applications. Users do not even think they could get infected with malware by clicking the links suggested by this "search engine" because it looks reliable.
The reason this search engine looks reliable is that it makes use of a custom Google search engine. It does not have anything to do with Google, and Google is not associated with the Mysearchengine.ru hijacker. The hijacker simply uses the popular search engine to make itself look believable. On the other hand, the search results delivered by this hijacker cannot be trusted. As mentioned, they could be embedded with outgoing third-party links that might redirect you to dangerous websites. Eventually, it would not be surprising if you got infected with a severe malicious program. Therefore, whatever you do, do not follow the links offered by this browser hijacker.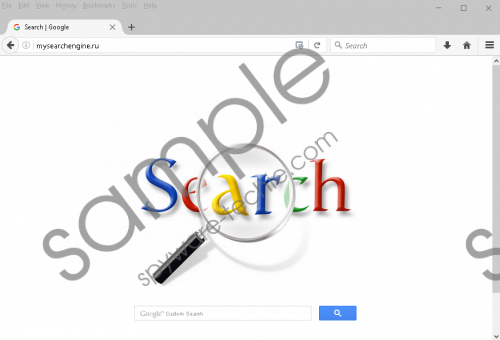 Mysearchengine.ru screenshot
Scroll down for full removal instructions
Sometimes it might be hard to refrain from clicking the promoted links because they will look like they are related to your likes and preferences. That is not a hallucination. Mysearchengine.ru is able to collect information on your web browsing habits by employing tracking cookies. Although the hijacker cannot steal your logins and passwords, it can create an online profile that would contain your most frequently visited websites and the search keywords you use the most often. With that, the program could generate custom commercial content target specifically at you. Then it would be only up to you to fight the urge to click them.
Browser hijackers from the same group as Mysearchengine.ru seem to have been created by Russian developers, but they obviously target users in different countries. For example, Gotosearch.ru mostly affects users in Germany, while Mysearchengine.ru has been detected in the UK and Greece. Also, there is a chance that Russian-speaking users in the said countries are the most vulnerable group of computer users because they are bound to visit websites associated with freeware and adware distribution.
In fact, you could easily avoid installing Mysearchengine.ru on your PC if you were more careful about the types of programs you download. For instance, downloading apps from file-sharing sites is not safe, and users often download more programs than they want from such pages. Therefore, it is very likely that Mysearchengine.ru is not the only unwanted program on-board. You will do yourself a favor if you scan your PC with a legitimate a security application to check just how many unwanted programs you have running.
How to delete Mysearchengine.ru from your system? This browser hijacker does not have an entry in the list of installed programs, so you cannot uninstall it via Control Panel. On the other hand, you can reset your browser settings to default. If you do that, all the unsolicited modifications and unfamiliar extensions will be gone immediately.
Finally, to be sure that you have terminated all the potential threats get yourself a legitimate security application. It will also protect your PC from similar intruders in the future. And do not forget that your own behavior online is just as important when you need to avoid potential infections. Avoid unfamiliar websites and do not download programs from shady web pages.
If you need a list of guidelines or you have any question about computer security, please do not hesitate to leave us a comment.
How to Remove Mysearchengine.ru
Firefox
Press Alt+H and go to Troubleshooting information.
On the new tab, click Refresh Firefox.
Click Refresh Firefox again and press Finish.
Internet Explorer
Press Alt+T and go to Internet options.
Click the Advanced tab and press Reset.
Mark the Delete personal settings option and click Reset.
Press Close.
Chrome
Press Alt+F and go to Settings.
At the bottom of the page, click Show advanced settings.
Click Reset settings at the bottom and press Reset.
In non-techie terms:
Mysearchengine.ru changes your default homepage without your permission. This program usually enters target systems with a few other unwanted applications. It means that you could lose personal data if this browser hijacker gets misused by cyber criminals. Therefore, you have to remove Mysearchengine.ru at once, at the same time protecting your PC from other dangerous programs out there. For more information, check out the article above.