Do you know what MyMemory is?
Do you have trouble remembering important dates? Perhaps you are in a serious need of schedule planner? If so, MyMemory might look like the answer to your troubles, but our research team says this application is a potentially unwanted program (PUP). So there is a chance that this application enters your computer uninvited, and it could interfere with your web browsing habits. If you did not intend this have this application, we would recommend that you remove MyMemory from the system immediately, and then run a full system scan with a licensed security application that will help you ensure your PC's security.
Perhaps we should establish what a potentially unwanted program is so that you would understand various security risks that come with it. How do we recognize a potentially unwanted program? There are several criteria that help use recognize a PUP. Those are associated with advertisements, advertising itself, user opinion, privacy, and unwanted behavior. In other words, a program may be unwanted if it displays a lot of commercial advertisements, if it seems to be involved in advertising more than in its original function, if users complain about its features, if it has privacy policy loopholes, and if it exhibits unwanted behavior. We think that MyMemory could fit all of those criteria.
It is already clear that the program should not be there when it pops up out of nowhere. The guys in our research lab think that MyMemory usually comes bundled with freeware installers. So, in a way, users are also responsible for this program's distribution. It is also the reason we always stress how important it is to download and install programs from original websites. Although sometimes even original sources bundle their software with additional features, there is a far bigger chance of downloading unwanted freeware if you choose to get an application from a third-party source or some file-sharing site.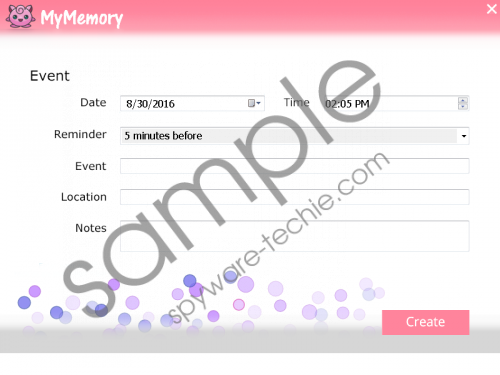 MyMemory screenshot
Scroll down for full removal instructions
What's more, if that is how MyMemory entered your system, you surely have a lot more unwanted apps on-board. Has your computer been acting slow lately? Is your browser not as responsive as before? Some unwanted apps are quite explicit, but others might be lying low, collecting data on your web browsing habits and generating commercial ads. How to know which programs must be removed? Scan your PC with the SpyHunter free scanner right now, and you will get an entire list of potential threats in no time.
Now, as far as this PUP is concerned, MyMemory is a direct descendent of Note-up, which is also a potentially unwanted program. These apps are identical, and it seems that where one app was not enough, its developers decided to clone yet another one to cover a wider audience. When the program is installed on your computer, it creates a shortcut on your desktop, and then adds "-bpub=MMAMj2n2 /key=7123" to the Target field in your browser's properties that launches are shortcut associated with this program the moment you turn on your browser. So it is possible to say that the application modifies your browser's settings without your permission.
While the program functions as an event planner, the so-called event reminder box will pop up on your screen, but it will not make any sound, so it is easy to ignore it by accident. The longer you ignore it, the longer MyMemory will remain on your computer.
So if you do not want any intruders on your PC, you can remove MyMemory through Control Panel. The fact that this application can be uninstalled in a conventional way without any leftovers simply proves that it is not a malicious infection.
It is true that it might be intrusive, but MyMemory is very far from being a decent security threat. You simply need to be more in control when it comes to the programs you add to your system. As mentioned, after the manual removal, you should scan the PC to look for other unwanted apps. Since manual removal might be a tedious task, you should leave it to the professional antispyware application.
If you need more information about such intruders and how to avoid them when you browse the web, please leave us a comment below. Our team is always ready to assist you.
How to Uninstall MyMemory
Windows 10 & Windows 8.1
Press Win+R and the Run prompt will open.
Type Control Panel into the Open box and click OK.
Select Uninstall a program and remove the PUP.
Windows Vista & Windows 7
Click the Start menu and open Control Panel.
Select Uninstall a program and remove the unwanted app.
Windows XP
Open the Start menu and select Control Panel.
Navigate to Add or remove programs and uninstall PUP.
In non-techie terms:
At times, even the most innocent-looking apps might cause some trouble. If MyMemory is on your computer, and it is not an application you wanted to see in your system, perhaps it is for the best to uninstall it right now. When it comes to protect your computer and your personal information from potential data leak, there should be no compromise. Finally, to protect your PC from similar undesirable intruders, you should consider acquiring a licensed antispyware program.