Do you know what Myluckysites.com is?
If you have encountered a program entitled Myluckysites.com, make sure to avoid it at all times. Our research team advises you to do so since this application has been classified as yet another browser hijacker. Such category has been assigned after a careful examination during which its invasive features were revealed. With a single alteration within your web browser's default settings, this program could affect your overall online experience in an extremely negative way. While this is one of the reasons we advise its complete removal, you must know that in some cases this hijacker could prove to be a major virtual security threat because due to its modifications your computer might get exposed to potentially malicious web content. In order to find out more about Myluckysites.com and its functionality, be sure to read the rest of our report. Also, we provide a detailed removal guide that will allow you to delete this browser hijacker without encountering any major problems.
The basic functionality of Myluckysites.com does not differ all that much from a lot of its contemporary counterparts. Once it enters your operating system, it will make certain modifications to files and registry entries of major web browsers such as Google Chrome, Internet Explorer, and Mozilla Firefox. Such wide compatibility signifies the fact that nearly every Internet users could get affected by it. The manifestation of edited files and registry entries is a change of your default homepage. One of the most annoying and invasive things about all of such functionality is the fact that you are not notified about any of the modifications. On top of that, you need to know that you will be forced to use a suspicious third-party website as your default homepage whether you like it or not. If that was not enough, it is crucial to highlight that using the search box within the newly appointed homepage might prove to be quite dangerous. Even though most of the result presented to you via this questionable search provider are sponsored ones, some of them could host harmful redirect links within them. This means that by clicking on such a result you, you might be taken to suspicious and even potentially dangerous sites, which could prove to be hosting malicious programs. In some instances just entering sites crafted by cyber crooks could might to be more than enough to get your computer infected with some unknown malware. Do not waste any time and remove Myluckysites.com if you ever find it fully running on your personal computer.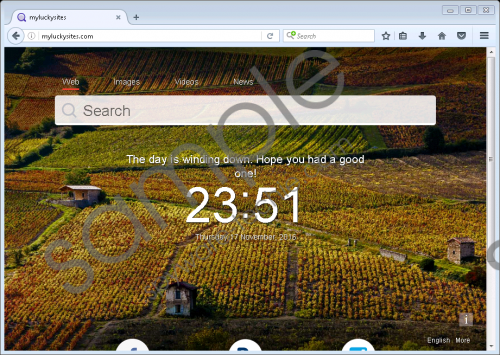 Myluckysites.com screenshot
Scroll down for full removal instructions
It is critical to take preventative measures to avoid Myluckysites.com or any other suspicious application. First and foremost, make sure to install a professional antimalware tool if you do not have one already. Such a tool is paramount to your overall virtual security as it can warn you about any suspicious content online or on your PC in advance. Alongside such a tool, we highly advise you to practice safe browsing habits since in the majority of cases this hijacker, like a lot of its counterparts. is spread via bundled installers. You can limit your exposure to such setup files by avoiding all unauthorized third-party download websites, which are infamous for being the primary source of software bundles. In addition to all of this, make sure to pay your utmost attention to every single installation procedure. Often users allow the setup of some undesirable program to take place just because they rushed the whole process. By taking your time and executing each step with care, you might be presented with a chance to cancel a setup of some devious program by unmarking a single box. Take these seemingly simple precautionary steps and your operating system will remain safe and secure at all times.
The complete removal of Myluckysites.com must be executed as soon as this hijacker is found up and running on your personal computer. It is crucial to do so as it could prove to be a major virtual threat, to put it mildly. Follow the instructions that we present below with care. It is critical to delete every single bit of this browser hijacker to restore the default settings of your web browser. To be sure that it has been terminated in its entirety, once you are done with the manual removal, you should perform an in-depth analysis of your personal computer for potential leftovers linked to Myluckysites.com.
How to remove Myluckysites.com from your personal computer
Google Chrome
Open the File Explorer
Navigate to C:\Users\(your username)\AppData\Local\Google\Chrome\User Data\Default.
Remove the following files:
a) Preferences.
b) Secure Preferences.
c) Web Data.
Mozilla Firefox
Open the File Explorer.
Navigate to C:\Users\(your username)\AppData\Roaming\Mozilla\Firefox\Profiles\(unique Mozilla profile ID).
Locate and then delete a file entitled prefs.js.
Internet Explorer
Click the Windows button.
Type regedit into a search field and then select it.
Navigate to HKEY_CURRENT_USER\Software\Microsoft\Internet Explorer\Main.
Right-click a registry value named Start Page and then select Modify.
Replace the unwanted URL with a new one and then click OK.
In non-techie terms:
If you believe that manual removal is a bit too complicated, do not worry. Our researcher at Spyware-Techie.com have crafted an alternative removal guide. By following the instructions that we provide below, you will be able to delete Myluckysites.com in its entirety automatically.