Do you know what Muzeen.com is?
At first sight, Muzeen.com looks like a regular search provider that can display links corresponding to your search queries. If you are vigilant, you should expect this search tool to represent the search results using the Yahoo search engine because the "Yahoo! France" logo is displayed right below the search dialog box. Although you are not redirected to this well-known and popular search engine when you enter your search keywords, the results shown to you are taken from this engine. Are you comfortable with that? If you wanted to see Yahoo Search results, would it not be easier to employ this engine instead? After all, Yahoo! is also available in French, just like the suspicious search tool that we are discussing in this report. Did you have no control over its entrance? If that is the case, you might be dealing with malware. Learn how to inspect your PC and remove Muzeen.com by reading this report.
As soon as our research team started researching Muzeen.com, it became clear that this hijacker is hosted on the same server as Searcheo.fr, which is another browser hijacker we have reviewed in the past. We classify these pieces of software as browser hijackers because they are capable of modifying the settings of your browsers, and that might even be done without your permission. If you believe that your browser was corrupted without permission, you must realize that this is a threat that requires immediate removal. You should not hesitate to delete Muzeen.com even if you have granted it the permission to replace your regular homepage or default search provider settings. Were you forced to modify search settings because it came as a package deal with a program or an extension that you wanted? If that is the case, you must research this program/extension to see if it is reliable. In fact, because the hijacker usually spreads via software bundles, we advise using a malware scanner to inspect your PC and check if you need to remove any dangerous threats.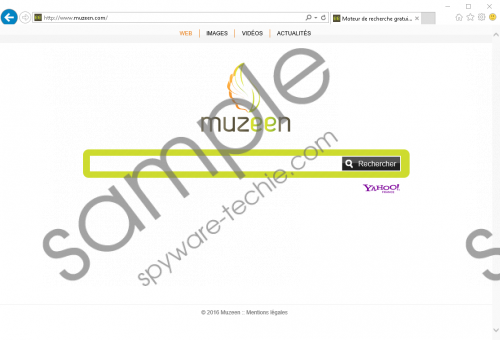 Muzeen.com screenshot
Scroll down for full removal instructions
Hopefully, malware does not exist on your operating system, and you can fully focus on the suspicious Muzeen.com. As we have already discussed, the interface of this browser hijacker is not suspicious. You have a search dialog box that accepts your search keywords and finds relevant information based on the search tool you use (Web, Images, Vidéos, or Actualités). When the search results are shown, you see the same results that you would be introduced to if you used Yahoo Search. Unfortunately, ads are mixed in, and you have to be exceptionally cautious about them. Do you know what kinds of advertisers Muzeen.com is associated with? Do you know if their intentions are good? Do you know if you will maintain virtual security if you interact with these advertisements? There are no guarantees that it is safe to click on these ads, and so you have to think carefully if you will gain anything from taking the risk of interacting with them. Our recommendation is to delete the suspicious search tool along with all ads.
Although you could change homepage and search provider tools, and then clear the browsing data along with tracking cookies (the hijacker employs these to spy on you), there is an easier way out. You can reset your browser. Sure, you might have to set the desired homepage and provider afterward, but this is the quickest and most efficient way to get rid of the hijacker. The instructions below show how to reset your browsers, and we are sure that you will have no issues succeeding. In case something goes wrong, you can start a discussion in the comments section below. Overall, deleting Muzeen.com is not a complicated task. What might cause you bigger problems is the elimination of other active threats. If you cannot get rid of them manually, do not hesitate to install a legitimate and reliable anti-malware tool.
Remove Muzeen.com from browsers
Google Chrome
Launch the browser, tap Alt+F, and select Settings.
Navigate to the bottom and click Show advanced settings…
Scroll to the bottom and click the Reset settings button.
Click Reset and then restart the browser.
Mozilla Firefox
Launch the browser, tap Alt+H, and click Troubleshooting Information.
Click the Refresh Firefox button on the right.
Click the Refresh Firefox button again and then restart the browser.
Internet Explorer
Launch the browser, tap Alt+T, and click Internet options.
Navigate to the Advanced tab and then click the Reset button.
Mark Delete personal settings and click Reset again.
Restart the browser.
In non-techie terms:
Do not treat Muzeen.com as a reliable search tool because it is not reliable. It employs Yahoo Search to deliver you relevant search results; however, it might add sponsored links/advertisements as well, and you do not want that because they could be unreliable. Overall, the search tool is not entirely useless, but it certainly is not better than Yahoo Search, and so we do not recommend using it much longer. You can reset your browsers to get rid of this hijacker, or you can use an anti-malware tool. Choose the latter option if other threats are active and if your operating system requires better protection.