Do you know what LuckySearch123.com is?
Have you decided that LuckySearch123.com is a great search tool to greet you whenever you launch your browser? If so, there is a great possibility that you have been misled by a suspicious, potentially malicious software installer. This search tool does not spead on its own. Instead, it is attached to other programs forming a software bundle. Whether or not these programs are malicious depends on the installer you use; however, considering that the search tool itself is usually identified as a potential threat, there is a great possibility that malware is introduced to you along with it. Are you shaking your head in disagreement? Hopefully, you are right, but you should run a full system scan before you can make any statements about third-party malware. Malicious threats could slither in using disguises, and they could initiate malicious processes without your notice. Continue reading to learn more about third-party malware, as well as how to delete LuckySearch123.com.
Our research team classifies LuckySearch123.com as a browser hijacker, and it was found that it comes from the well-known Elex family. Amisites.com and Nuesearch.com are just few a of the many hijackers that belong to this family as well. We classify these search providers as hijackers because they modify browsers. Once LuckySearch123.com is installed, you will find it set up as your homepage. Whether or not it is done without your permission, it makes these changes very swiftly. Of course, if your browsers are hijacked illegally, it should not be difficult to identify the hijacker as a threat that requires removal. Well, what if you gave the permission to make these modifications? Unless you got exactly what you expected – which a useless search tool – you probably do not have a reason to delete this search tool. Of course, most users realize that they have been duped as soon as they test the search tool and see that it does not offer beneficial services. The only function of this hijacker is to represent the search results of Google Search, and you can have the same service by setting google.com as your homepage.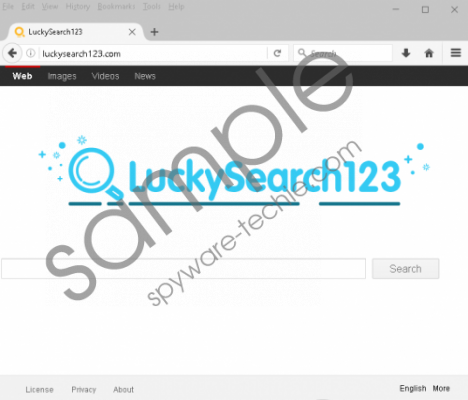 LuckySearch123.com screenshot
Scroll down for full removal instructions
The good news is that LuckySearch123.com does not modify the search results that are displayed to you via a new tab page after you enter search keywords into the provided search box. All search options – Web, Images, Videos, and News – open the Google Search engine, and that makes the tool worthless. Of course, not all users will remove this hijacker just because it is useless. After all, it shows legitimate search results. Well, it would be a mistake to postpone the removal of LuckySearch123.com. Why? This search tool can install tracking cookies and collect information about you. Although cookies generally collect information to enhance services and help software creators to develop better products, it is most likely that the cookies of the hijacker are primarily serving third parties. Do you want information about your virtual behavior to be leaked to unknown parties? If you do not, you should not postpone the removal for any longer.
There is not one reason why you should keep LuckySearch123.com set as your homepage. This search tool is completely useless, and, on top of that, it could record and leak information regarding your virtual behavior. We strongly recommend deleting this hijacker from your browsers, and you should be able to do that by modifying the homepage URL. It is as easy as it sounds, and you can use the guide below to perform this task. Of course, before you do that, you should scan your PC. If malicious threats are found, you do not need to delete LuckySearch123.com manually. Instead, install a trusted anti-malware tool to have all threats found and erased simultaneously.
Remove LuckySearch123.com from browsers
Mozilla Firefox
Open the browser and tap keys Alt+T.
Select Options and then move to the General menu.
Change the URL in the Home Page section.
Restart the browser.
Google Chrome
Open the browser and tap keys Alt+F.
Select Settings and then move to the On Startup menu.
Check Open a specific page or set of pages and click Set pages.
Change the URL in the Startup page section and click OK.
Restart the browser.
Internet Explorer
Open the browser and tap keys Alt+T.
Select Internet options and then click the General tab.
Change the URL in the Home Page section and click OK.
Restart the browser.
In non-techie terms:
If you are looking for a legitimate and beneficial search tool to greet you whenever you launch your browser, we can warn you that LuckySearch123.com is not a search tool for you. This seemingly harmless provider opens a new tab with Google Search to display search results corresponding to your search queries. Needless to say, this makes the hijacker completely useless, but that is not the only reason to delete it. As our research team has found, this hijacker could spy on you, and so you need to remove it to prevent data leaks. We advise using anti-malware software, but you can also try out manual removal. Start a conversation below if you have any observations or questions.