Do you know what Live Security Platinum is?
Live Security Platinum is a member from the same family as Smart Fortress 2012 and Smart Protection 2012 but there are more clones belonging to the same family. Live Security Platinum does not differ enormously from its predecessors and does not act differently. As a misleading application, Live Security Platinum tries to look as convincing as possible.
In order to trick Windows users and get their money, Live Security Platinum run imaginary scans that might look realistic because of the threats found in the system. However, those threats are imaginary, and it might happen that the names of valid Windows files are used instead of real viruses or Trojans. Any attempt to remove those imaginary infections is unadvisable, because you might delete the files necessary for running OS. Live Security Platinum will also pop up false warning in the Windows Task bar, to make you think that Live Security Platinum provides you with protection all the time. Differently from legal security software, Live Security Platinum does not remove those bogus threats so easily. You will be offered to pay money for an imaginary full version of the rogue which would supposedly remove all those "threats".
UPDATE
Live Security Platinum attempts to trick you into believing that it can be trusted by presenting convincing security notifications which are actually simulated. Some of them are given below:
Warning!
Application cannot be executed. The file rdpclip.exe is infected. Please active your antivirus software.

Warning: Your computer is infected
Detected spyware infection!
Click this message to install the last update of security software

Antivirus protection is disabled. Your PC is unguarded against most known viruses and can be infected. Click "Enable Antivirus Protection" to protect your PC and secure your Internet activity.
Ignore all of the notification provided by Live Security Platinum. Moreover, does not attempt to remove the infections it presents, because those infections simply do not exist in the system.
As the infections are not present in the system, the impairments of the system are simulated. Do not think that Registry Editor and Task Manager are hidden due to the infections, because they are hidden to prevent the removal of the rogue. Additionally, the rogue might disable some executable files and, as a result, you might notice that the system is not running as it used to do before the infection. It might also happen that the rogue limits access to the Internet. Hence, do not wait but delete Live Security Platinum from the system.
We strongly advise you to delete the rogue automatically by using a legitimate antispyware tool. The rogue deleted in this way will not be regenerated, because the removal tool deletes all the components of the rogue and protects the system.
In non-techie terms:
Please do not make any purchase where you could reveal your banking account password or credit card number. This action is completely worthless, and you should not bother thinking that there is no other way to escape from this. The only way to get rid of Live Security Platinum is to ensure, that all of its components are removed and that there is not chance to revive it in the system. A legitimate antispyware program will ensure that those components are deleted, because if Live Security Platinum is "removed" manually by an inexperienced Windows user, the same issue of infection might arise.
Aliases: LiveSecurityPlatinum.
UPDATE
64C665BE-4DE7-423B-A6B6-BC0172B25DF2 is a registration or activation key that is acquired after the purchase of the full version of Live Security Platinum. This key, once entered in an appropriate field, foils the rogue's attempts to scare you, because the false notification and scans stop being displayed on the screen. Additionally, after the registration of the rogue, you should be able to access the Internet and use other applications which have been disabled.
If you still cannot use your Internet browser and download a removal tool, follow our instructions on how you should download SpyHunter, which is antispyware software.
Open the START menu and find the RUN button.
Enter http://www.spyware-techie.com/download-sph and then press OK.
Select "Ignore warnings and visit that site in the current state (not recommended)."
Click Save, and then save SpyHunter-Installer.exe on your machine.
Double-click on SpyHunter-Installer.exe and select RUN. When SpyHunter is installed, launch it and select "Scan Computer Now!"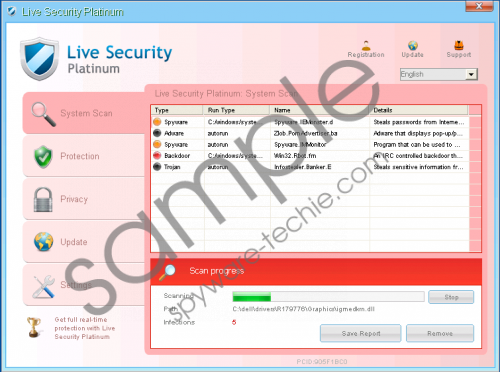 How to Stop a Running Process
Stop These Processes:
c5826.exe
a2e1a.exe
[Random].exe
f424f.exe
Find and Delete These Files:
%UserProfile%\Start Menu\Programs\Live Security Platinum
c5826.exe
%Desktopdir%\Live Security Platinum.lnk
a2e1a.exe
%ALLUSERSPROFILE%\Application Data\????????????????????????????????
%Programs%\Live Security Platinum\Live Security Platinum.lnk
%AppData%\[Random]\[Random].exe
f424f.exe
Live Security Platinum.lnk
%ALLUSERSPROFILE%\????????????????????????????????
How to Remove Registry Keys
Remove These Registry Values:
HKCU\Software\Microsoft\Windows\CurrentVersion\Uninstall\Live Security Platinum\ShortcutPath "%AppData%\[Random]\[Random].exe" -u
HKCU\Software\Microsoft\Windows\CurrentVersion\Uninstall\Live Security Platinum\DisplayName Live Security Platinum
HKCU\Software\Microsoft\Windows\CurrentVersion\Uninstall\Live Security Platinum
HKCU\Software\Microsoft\Windows\CurrentVersion\Uninstall\Live Security Platinum\UninstallString "%AppData%\[Random]\[Random].exe" -u
HKCU\Software\Microsoft\Windows\CurrentVersion\Uninstall\Live Security Platinum\DisplayIcon %AppData%\[Random]\[Random].exe,0
HKCU\Software\Microsoft\Windows\CurrentVersion\RunOnce\[random] %AppData%\[Random]\[Random].exe
Live Security Platinum Removal Guide Automatic Removal Instructions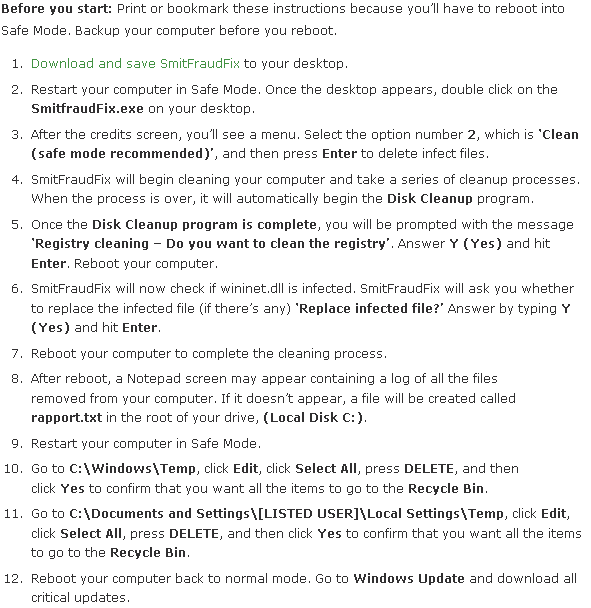 Did You Find this Article Helpful?
Subscribe to Spyware Techie for more!
Or get latest articles to your via email: