Do you know what Links-yahoo.com is?
Finding Links-yahoo.com in your browsers could be a bad sign and an indication that your computer has been infiltrated by a number of malicious programs. Our researchers have found that this questionable search engine is mostly spreading in India. However, as the Internet does not know boundaries, you could infect your system with it practically anywhere in the world. This infection may pose a threat to you on more than one front, including its main page filled with potentially corrupt third-party ads and the modified search results as well. Since this risk source can sneak onto your system along with other malware infections, we can assume that your computer could be a home to several malicious programs right now. If you want to clean your PC to be secure in your virtual world, you should start by removing Links-yahoo.com from your browsers. But let us tell you more about this infection so that you learn how you can protect your computer from similar attacks.
Our research and tests show that this search engine can appear in your browsers after you click on unreliable third-party content. This content could be a commercial advertisement of some sort, such as a banner and a pop-up ad, or a search result hyperlink coming from a browser hijacker or a questionable search engine like this one. The former is possible when your system is infected with an adware program or you land on questionable websites related to online gaming or file sharing (e.g., torrent and shareware). You need to understand that even if one single adware program is hiding on your system, it can cause some serious headaches. Not only because it becomes very annoying with the seemingly endless flow of potentially harmful third-party advertisements, but it can also pose as a threat since it may hijack normal and legitimate third-party ads so you will never be safe clicking on ads on even reputable websites.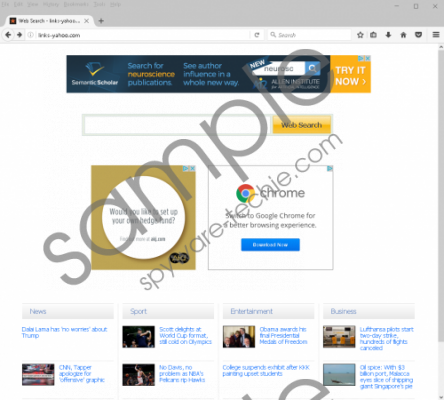 Links-yahoo.com screenshot
Scroll down for full removal instructions
The worst thing about clicking on such potentially unreliable contents is that you may download bundled malware infections including this risky search engine. If it is not enough to infect your system with an unreliable search engine, you can let a number of adware apps, browser hijackers, Trojans, and potentially unwanted programs onto your computer, which can seriously increase the vulnerability of your system security. We suggest that you be very cautious every time you are about to install bundled software. It is usually possible to deselect certain components if you do not want to install them. However, this option may only be visible for you if you choose the custom installation option. If you miss this, it is quite likely that you will find such threats on your system beside this search engine. Therefore, we advise you to find a reliable malware scanner and scan your system to detect all possible threat sources after you delete Links-yahoo.com from your browsers.
This search engine is different from many other because it displays a couple of third-party ads on its main page that could present you with unsafe third-party content if you click on them. For example, you could end up on malicious websites that open on new tabs or in new browser windows. Apart from these annoying ads, you can also find a couple of news categories with links at the bottom that lead to Yahoo news pages. This search engine may gather information about your browsing activity to use it in order to send customized content to your screen. However, crooks can use this to present you with unsafe content. This is possible because this search engine can manipulate its results. After each search your queries get redirected to a customized Google search results page that may contain potentially harmful third-party ads and links. Most likely you will not be able to tell the difference between a legitimate and a malicious result and you may end up clicking on the wrong content. This could open malicious pages on new tabs or windows that may be able to scam you only to lose money or "simply" drop infections onto your system. If you want to use a safe computer, we suggest that you act now and remove Links-yahoo.com from your browsers.
In order to clean this annoying search engine from your computer, we advise you to reset the affected browsers, including Mozilla Firefox, Internet Explorer, and Google Chrome. Keep in mind that by resetting your browsers you may lose your preferred settings and extensions as all your browsers will be set to factory default. Please follow our instructions below if you wonder how to do this. Since the emergence of this search engine on your system could signal the presence of other malware threats, we believe that it could be the right time for you to realize that there is something wrong with your defense. If you cannot handle it manually, yet you do not want further malware invasions, we recommend that you install a professional malware removal program, such as SpyHunter.
Remove Links-yahoo.com from your browsers
Google Chrome
Tap Alt+F and select Settings.
Click Show advanced settings at the bottom.
Click Reset settings at the bottom.
Press Reset.
Mozilla Firefox
Tap Alt+H and select Troubleshooting Information.
Press Refresh Firefox and click Refresh Firefox again.
Click Finish.
Internet Explorer
Tap Alt+T and select Internet Options.
On the Advanced tab, press Reset.
Select Delete personal settings and click Reset.
Click Close.
In non-techie terms:
Links-yahoo.com is a useless search engine that could put your virtual security at risk if it shows up in your browsers. Our researchers say that this infection can only appear on your computer under questionable circumstances, which could indicate the presence of other malware threats as well. In other words, if you find this search engine in your browsers, you could be facing multiple system security threats. This infection shows you potentially unreliable third-party ads right on its main search page. Also, if you run a web search, you could find yourself on a manipulated customized Google search results page that could display unsafe ads and links to you. We recommend that you remove Links-yahoo.com as soon as possible. If manual removal is out of the question for you, we suggest that you use a reliable malware removal application.