Do you know what Karma Ransomware is?
Malware experts at Spyware-Techie.com have discovered yet another ransomware application. It goes by the name of Karma Ransomware and is known to be disguised in a devious manner to trick users into obtaining it. Usually, it is spread as an optimization tool that should allow you to reestablish the best performance of your personal computer. Unfortunately, the malware in questions does the opposite of that. Upon intrusion, it locks majority of your personal data without any notification. It goes without saying that such functionality cannot be tolerated; the removal of Karma Ransomware is paramount, and it should not be delayed. Do so by following the removal guide that we present below. In addition to our research information and comprehensive termination instructions, we provide virtual security recommendations, which will allow you to keep your operating system safe and secure at all times.
As soon as Karma Ransomware enters your PC, it might appear as an authentic optimization tool, which is entitled Windows-TuneUp. Its developers have carefully crafted a convincing looking user interface that can fool almost any user with no advanced computer knowledge. Once the malicious application is launched, you will see an alleged scan of your operating that should determine various errors, which are responsible for the slow functionality of your computer. Unfortunately, in reality, all of that is just a visual hoax; during this fake scan the malware in question starts its silent encryption procedure that has an effect on files such as .mp3, .mp4, .wav, .jpg, .jpeg, .png, .bmp, .docx, .psd, .pdf, and many others. All the data is encrypted using a strong AES algorithm; thus a manual decryption is a virtually impossible task. Only after this ransomware is done locking your data, will you be notified about what has happened. Usually, it places a file on your desktop called "# DECRYPT MY FILES #.txt". Within it you will find information about what has happened and that you will need a decryption tool to regain full access to your personal files. It is expected that you will be instructed to pay for such a tool by cyber crooks. This is something we recommend not doing as developers of this malware are not legally obliged to actually deliver the decryption software even if you happen to pay up. It goes without saying that a thorough removal of Karma Ransomware is crucial. Execute it as soon as this malicious program is found running on your PC since this way you might be able to limit the data loss induced by it.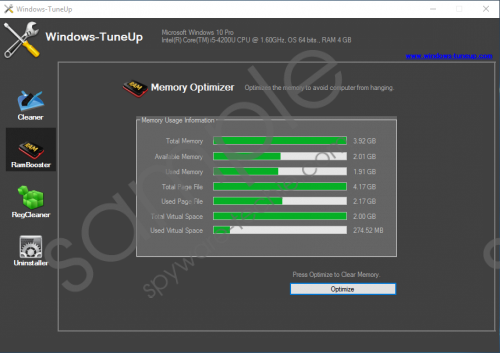 Karma Ransomware screenshot
Scroll down for full removal instructions
Virtual security should be of utmost importance for every computer user. To have a clean operating system at all times, you must take a few precautionary steps. Firstly, to avoid Karma Ransomware, you need to be aware of the fact that hoax marketing techniques are quite common nowadays; therefore, if you wish to install a new program on your PC, you need to learn about it as much as possible before even obtaining it. For instance, be sure to check its name on our website; this could save you from acquiring a harmful application. Also, we highly advise you to download all of your software from official developers' websites only. This is important as obtaining applications from third-party sites could prove to have detrimental outcomes because often such web pages provide bundled installers and they are one of the primary sources of devious software. In addition to all of this, you also need to have a professional antimalware tool active on your personal computer at all times. Such a tool is the most important part of your overall virtual security because it can detect and delete any devious application in an automatic manner. These seemingly simple preventative steps will make your operating system unbreakable.
Under no circumstances do not delay the complete removal of Karma Ransomware. Use the instructions that we present below as soon as it is detected on your PC. Once you are done with the guide, we highly advise you to double-check your operating system for potential leftovers linked to Karma Ransomware. This is critical since just a few traces of this malware could still be used in a devious manner. For instance, the files or registry entries might be able to trigger a silent restoration procedure; in other cases, just a few traces of this malicious program could still be enough for it to function.
How to remove Karma Ransomware from your operating system
Open your File Explorer.
Go to C:\Windows\System32\Tasks.
Right-click a file called pchelper and select Delete
Click the Windows button.
Type regedit into the search field and the tap Enter on your keyboard.
Navigate to HKEY_LOCAL_MACHINE\SOFTWARE\WOW6432Node\Microsoft\Windows\CurrentVersion\Uninstall.
Select a registry key entitled Windows-TuneUp and then remove it.
Go to HKEY_LOCAL_MACHINE\SOFTWARE\Microsoft\Windows NT\CurrentVersion\Schedule\TaskCache\Tree.
Locate and then remove a registry key named pchelper.
Go to KEY_LOCAL_MACHINE \SOFTWARE\Microsoft\Windows\CurrentVersion\Run.
Select registry values named Safron and Saffron and then remove them.
In non-techie terms:
If you happen to be a user that finds manual removal and analysis of your PC a bit too complicated since it involves manual registry tweaking, do not worry. Malware researchers at Spyware-Techie.com have crafted an alternative removal guide. Follow the instructions below and you will be able to delete Karma Ransomware automatically.