Do you know what iRansom Ransomware is?
iRansom Ransomware threatens your personal files, and, if you do not stop this infection in time, all of your documents, media files, photos, archives, and other valuable files could be encrypted. The threat uses the AES (Advanced Encryption Standard) encryption algorithm to lock up your files, and it can do that silently. It is most likely that you will not notice that your files were encrypted at all, until the ransom note pops up on the screen. If this screen has already popped up, there is nothing you can do to stop the encryption process because it is already complete. Is it possible to reverse the damage? Though the developer of the ransomware wants you to believe that it is possible to unlock your personal files by paying a ransom, our research team warns that your files could remain locked even if your transaction is successful. So, should you just remove your personal files and beat yourself up for not backing them up? Hopefully, you do not need to resort to that, and you manage to recover your files before you delete iRansom Ransomware.
If the malicious iRansom Ransomware has found its way into your operating system, this is the ransom note that you are likely to face once the encryption of your files is complete.
Your files have been locked by iRansom
[number] total files have been encrypted using the strongest encryption. And a unique key, generated for this computer. […]
To unlock your precious files, you must pay a [0.15] bitcoin fee ([a sum converted to US Dollars]) to the address below!
Wallet ID: 18Md4neA2kE3fkB46FDpyxLUEZvQeUjt4M
According to the message, you have two days to pay the ransom of 0.15 Bitcoins. If you pay the ransom, you are also required to confirm the payment by emailing GALAXYHIREN@SIGAINT.ORG. So, is it a good idea to follow the demands that cyber criminals have presented? Considering that they cannot be held responsible for their actions, we are unsure if the payment would result in the decryption of your files. The worst part is that the creator of iRansom Ransomware does not leave any other option but to pay the ransom. If you delete the ransomware itself, the files will remain locked. If you remove the ".Locked" extension attached to the encrypted files, they will remain locked as well. Your only chance of recovering your files is a decryption key, and it is stored on a secret server. Needless to say, it is impossible to retrieve it. In some cases, file decryptors manage to crack the encryption algorithms used, but we cannot promise that a decryptor capable of cracking iRansom Ransomware will be created as well. Unfortunately, you might feel backed into a corner if the encrypted files in the %USERPROFILE% directory are very important for you.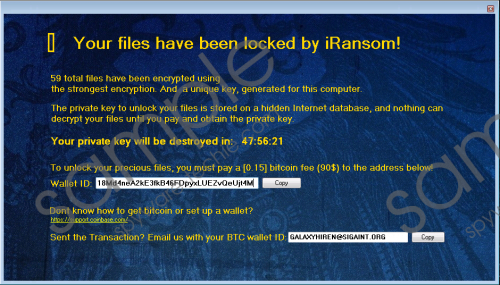 iRansom Ransomware screenshot
Scroll down for full removal instructions
When the malicious iRansom Ransomware is created, it adds a registry value to the RUN registry, which ensures that the threat is launched every time you restart your computer. A malicious process starts running right away, and because of that, all new files added to the %USERPROFILE% directory are encrypted as well. This is import to note if you choose to pay the ransom and, by some miracle, your files get decrypted. Even if your files are decrypted, the ransomware is still active, and it could encrypt your files again. The manual iRansom Ransomware removal guide below lists the steps that you need to take to get rid of this infection. Obviously, you should focus on manual removal only if you are sure that you can erase active malware yourself and if you believe that you can ensure full-time protection against malicious threats as well. If you are not so sure, invest in legitimate anti-malware software.
Delete iRansom Ransomware
Launch Task Manager by tapping keys Ctrl+Shift+Esc (or tap Ctrl+Alt+Delete and select Task Manager).
Click the Processes tab and select the malicious process (it could be named iRansom.exe).
Click the End Task/End Process button below and exit the utility.
Right-click the malicious .exe file (file name and location are unknown) and select Delete.
Launch RUN by tapping Win+R keys and enter regedit.exe into the dialog box.
In Registry Editor move to HKLM\SOFTWARE\Wow6432Node\Microsoft\Windows\CurrentVersion\Run.
Right-click the malicious value (it could be named iRansom) and select Delete.
Install a legitimate malware scanner and scan your operating system to make sure your PC is now clean.
In non-techie terms:
You must delete iRansom Ransomware from your operating system, regardless of whether or not you manage to recover your files. If they are backed up, what are you waiting for? If you have paid the ransom, and your files were restored, you must eliminate the infection ASAP before it strikes again. Now, if your files are lost, consider this as a lesson to take better care of your personal files. To prevent the loss of your files in the future, set up cloud storage or invest in an external drive to which you could transfer your personal files for safe keeping. Keep in mind that there are other threats that could harm your files. On top of that, physical hardware damage could lead to data loss as well.