Do you know what Hotwebfree.com is?
According to our malware researchers, Hotwebfree.com is nothing more than a browser hijacker that only poses as a legitimate search engine. It is distributed in a highly malicious manner, and we recommend that you remove it because it can replace your browser's homepage address without your knowledge or consent. It has not been labeled by developer, so the developer is unknown, and it is obvious that they want to stay in the shadows. And, there is no reason why they would want to digitally sign this hijacker because not only does it hijack the homepage, but collect some non-personally identifiable information about you to show questionable promotional links in its search results.
Our cyber security specialists believe that this new browser hijacker is distributed in a highly malicious manner. They found that it does not have a browser extension to distribute it. Nevertheless, its developers have made arrangements to feature it in malicious software bundles. The installers of such bundles were calibrated to secretly inject Hotwebfree.com into your browser while it installs other software. Researchers say that the installers were configured to purposefully deny you the means to deselect the installation of this hijacker. Therefore, the only way you can prevent this hijacker from entering your computer is getting a powerful anti-malware application that would block it.
Our researchers have received information that this hijacker can be installed on Microsoft Internet Explorer, Google Chrome, and Mozilla Firefox and replace their homepage. In the case of Chrome, however, it can also replace its new tab page. Fortunately, the installers Hotwebfree.com comes in do not modify the browser's shortcut target line, so you can simply replace the homepage/new tab page address in the settings menu of your respective web browser.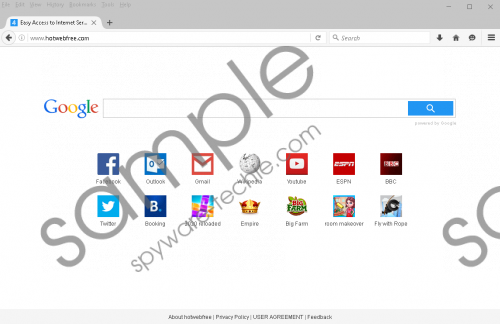 Hotwebfree.com screenshot
Scroll down for full removal instructions
The reason this hijacker exists in the first place is to make money. It is like adware, but it promotes certain websites via its search results. It is worth mentioning that it redirects all search queries to Google.com and it even features Google's logo on its main page to give you an impression that you are using Google. However, Hotwebfree.com does not have its own search algorithm, so it relies on third-party services to deliver you search result. The downside is that the results are often, but not always, modified to accommodate promotional links of unknown origin. Our security specialists say that its promotional links are likely to come from unknown entities that promote malicious software downloads and fake online shopping sites. Therefore, your computer and your personal security can be severely compromised by this hijacker.
As mentioned in the introduction, this hijacker can collect certain information about you. According to the privacy policy, this hijacker will collect information such as "URL, IP address, type of browser, language used, and the date and time of visit, etc., with the sole purpose being to provide you with better services." So they claim that they will use this information to improve this hijacker's services. We think that these services also include tailoring of promotional links that will generate its developers more money.
In conclusion, Hotwebfree.com is one malicious search engine that we rightfully classified as a browser hijacker because it is distributed in a way that prevents you from deselecting its installation. Its purpose it to promote shady content to generate revenue and it is also designed to collect information about you and use it to tailor the promotional campaign. The links can be of unreliable nature, so we suggest that you remove it using the guide provided below.
How to change your homepage address
Microsoft Internet Explorer
Hold down Alt+T.
Select Internet Options.
Enter a new URL in the address line.
Click OK.
Mozilla Firefox
Hold down Alt+T.
Click Options and select General.
Enter a new URL in the Home Page box.
Google Chrome
Hold down Alt+F.
Select Settings.
Click Set pages and enter a new URL.
Click OK.
In non-techie terms:
Hotwebfree.com is a browser hijacker whose purpose is to replace your browser's homepage and force you to use it for searching the web. Its search results are apt to feature promotional links of unverified legitimacy and they can feature content that will compromise your computer's security and your personal privacy. Moreover, this hijacker was designed to collect anonymous information about you to tailor the links and generate more revenue as a result. you can delete this hijacker using the guide above.