Do you know what GreatArcadeHits is?
GreatArcadeHits is an adware application, so it has no useful tools or functions as it can only display advertising content. However, in order to display more interesting ads to the user, the program should also record your visited websites, clicked ads, and other similar information. Thus, they might look tempting, but we have to warn you that such content could be dangerous. As you continue reading the article, we will tell you all there is to know about the main risks you could be taking while keeping GreatArcadeHits on the computer. Also, below the text you will find a removal guide, so if you already decided to eliminate the unreliable program, slide below and follow the deletion steps carefully.
The adware was created by the same developers who launched a website called greatarcadehits.com. Mostly, the site offers free games to play online, but some of them are in the Premium category. The application's Privacy Policy explains that if users want to use the Premium content they have to download the program. Nonetheless, the chances for you to accidentally find this website are rather small as you would have to know its actual title or address.
Therefore, our specialists suspect the adware could also travel with bundled installers. Such setup files could be available on questionable file-sharing web pages. Plus, the software might be promoted through suspicious pop-up ads. Either way, the appearance of GreatArcadeHits signals that you should be more careful while surfing the Internet. It is best to avoid suspicious sites, advertisements or programs and keep a reliable security tool to guard the system.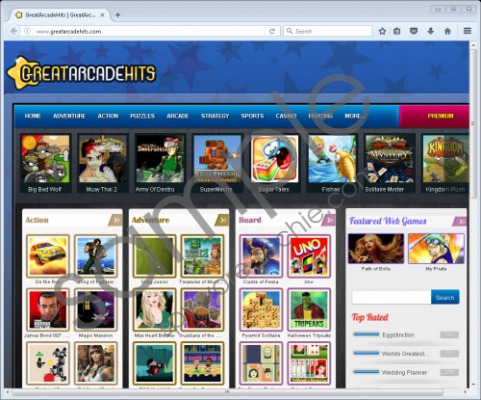 GreatArcadeHits screenshot
Scroll down for full removal instructions
The application installs itself by creating folders titled as GreatArcadeHits in the %LOCALAPPDATA% and %UserProfile%\Local Settings\Application Data directories. The software should install an extension as well, so based on the browser it might create some keys in the Windows Registry and add a couple of folders in the directories belonging to the user's browser. Afterward, the program might begin to gather information about your browsing habits and display targeted ads. Apparently, the adware's developers may share collected data with the software's third-party partners "to allow third party advertising networks to serve you more relevant ads," as it is said in the GreatArcadeHits Privacy Policy document.
What kind of ads can one expect from third-party advertising networks? Since the adware's creators warn users to be cautious with such content and claim they are not responsible for your interactions with the ads, it is possible that some of them might be dangerous. To give you an example, the advertisements could lead to unreliable web pages created to distribute similar adware, browser hijacker, suspicious extensions, and so on. Some of the websites could even have ransomware, Trojans, and other malicious software. It does not seem to us that it would be wise to keep such a useless program on the system, especially when it might display potentially harmful content.
Fortunately, you do not have to take any risks since you can delete GreatArcadeHits and stop it from displaying questionable advertisements. The adware has a working uninstall file, so it can be erased via Control Panel. Users who are not familiar with the Control Panel tools, should follow the removal guide and eliminate the application accordingly. The other option is to use a trustworthy antimalware tool. If you do not have such software, you could install our recommended tool. It would detect the program while scanning the system and once it finishes, the tool should provide a deletion button, so you can get rid of threats by simply clicking it.
Remove GreatArcadeHits from the system
Windows 8\Windows 10
Open the RUN (press Windows key+R).
Select Control Panel and click OK.
Choose Uninstall a program, then mark the adware and press Uninstall.
Windows Vista\Windows 7
Access the Start menu.
Launch the Control Panel.
Press Uninstall a program, select the application, then click Uninstall.
Windows XP
Open the Start and choose Control Panel.
Click Add or Remove Programs, mark GreatArcadeHits and select Uninstall.
In non-techie terms:
GreatArcadeHits was categorized as adware since its primary task is to display advertisements. Users should also know that such ads could be potentially harmful as they may originate from malicious web pages. Consequently, our specialists advise to delete it immediately. Since the application has no useful functions to the user and its displayed content could be annoying, there is no reason to leave it installed. If you think so too, we encourage you to use the removal guide available below or install an antimalware tool and erase the threat.