Do you know what GotoWebs.com is?
GotoWebs.com is a website that looks like a regular search engine. However, the only reason you may see this page on your browser is a malware infection. To be more precise: a browser hijacker infection. That is right; this domain is used by a browser hijacker that enters your computer behind your back, and then expects you to help it make easy money for its developers. Needless to say, you should not tolerate such insolence. Please remove GotoWebs.com from your computer immediately and then look for other potential threats that might be slowing down your system.
This browser hijacker is rather generic, so it does not possess any exceptional qualities. However, after our research, we have found that GotoWebs.com is hosted on the same server as easyopenweb.com, iwebs.site, gotowebs.com, and others. So it means that there is an entire group of similar applications that might be performing similar functions. For instance, our research team says this hijacker might come bundled with the TempMon app, and the app's official website tempmon.net is also hosted on the same server as GotoWebs.com. So there might be more programs associated with this threat, and you could hardly be aware of that.
Here you might say that you never downloaded TempMon and you do not even know what this app is about. While this might be true, you have to understand that there are multiple other applications that could bundle GotoWebs.com in the same installer file. In fact, third-party installers are often known to contain several applications, and since users download those from third-party sources, no one double-checks the installers to see whether they are safe or not. Therefore, it would be a good idea to scan a third-party installer before you launch the file. For that, you could use a security application of your choice.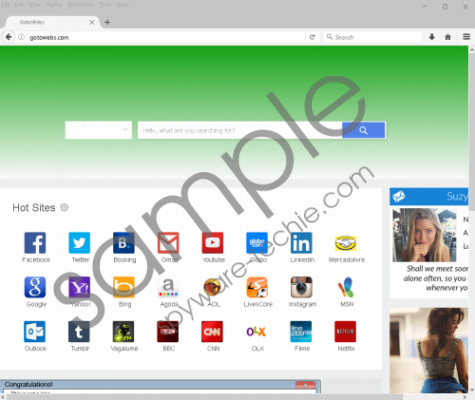 GotoWebs.com screenshot
Scroll down for full removal instructions
We think that some users may consider this browser hijacker a genuine search provider. However, if you were to perform a web search via GotoWebs.com, you would see that it uses a custom version of the Google search engine. Of course, there is nothing in common between Google and this infection. The hijacker is simply making use of the popular engine to make it look reliable and trustworthy. Yet, there is nothing reliable about a browser hijacker because it is too vulnerable to third-party exploitation. The longer this program remains on your browser, the more trouble it may cause.
It is important to note that browser hijackers are not extreme security threats. They do not target your banking logins or passwords, and they cannot log your key strokes. The main security concern associated with these programs is that they can be misused by cyber criminals. For example, we have discussed the ads this hijacker displays, right? The point is that GotoWebs.com does not review the content that gets embedded in those ads. It only provides the advertising space. So almost anyone could make use of that space to promote their content. And we all know how good cyber criminals are at utilizing any security loophole.
So, when you get infected with GotoWebs.com, the browser settings modification is just a beginning. You see, the program collects information about your web browsing habits, and it can generate your online profile, checking what you like and what you usually search for online. Consequently, it can generate commercial ads customized especially for you. Why? Because it needs your clicks. Each time you click an ad delivered via this hijacker, you help it generate a profit via the pay-per-click system. That is why the infection strives to expose you to as much customized content, as possible.
For the most part, this kind of behavior is merely annoying. Yet, we have to remember the cyber criminal ability to exploit this program. So, if you happen to click a malicious outgoing link, you could get infected with an extremely dangerous program, or your personal information could be leaked to malevolent third-party.
It is your job to protect your computer, your information, and your financial security from such exploitations. The first step is to remove GotoWebs.com from your system. Second, you should acquire a genuine antispyware application. And finally, be careful when you browse the web because you can never know when a similar infection might come along.
How to Delete GotoWebs.com
Modify Target Line
Right-click your browser's shortcut.
Open Properties and go to the Shortcut tab.
Locate the Target line.
Delete everything that is OUTSIDE of the quotation marks.
Click OK.
Firefox
Press Alt+H and go to Troubleshooting information.
Click Refresh Firefox at the top right of the new tab.
Press Refresh Firefox again and click Finish.
Chrome
Press Alt+F and open Settings.
Click Show advanced settings at the bottom of the page.
Scroll down and click Reset settings.
Click Reset to confirm.
Internet Explorer
Press Alt+T and select Internet options.
Click the Advanced tab and press Reset.
Mark Delete personal settings and click Reset.
Click Close.
In non-techie terms:
Browser hijackers do not look like something dangerous, but they can easily spell "trouble." You should remove GotoWebs.com from your computer immediately because this program might be associated with many security threats. While you are at it, please make sure that you terminate an additional set of unwanted apps because we are more than sure that this browser hijacker did not enter your system solo. Do what you can to safeguard your PC against similar intruders.