Do you know what Gotosearch.ru is?
Gotosearch.ru is a threat in disguise, and, unfortunately, not all victims realize that right away. The interface of this threat reminds us of a regular search engine, such as google.com, and, on top of that, it uses Google Custom Search to provide you with search results. Well, not everything is as it seems. For one, the search provider used to deliver search results might be misleading. The home page of the site showcases banner advertisements, some of which might be misleading and possibly even dangerous. Finally, no official information is presented which is a big red flag. For our research team, whether or not it is necessary to remove Gotosearch.ru is a no brainer. Unfortunately, regular users might see no harm in using this fictitious web search assistant. If you need proof that this search provider is unreliable and that you should delete it, you are welcome to read this report.
We have only recently reported Mysearchengine.ru, another strange search tool that is very similar to the suspicious Gotosearch.ru. The chances are that both of these browser hijackers (we will discuss why we use this term later) were created by the same company because they are both hosted on the same server along with other strange, potentially unreliable sites. Is there a reason for the same company to create a bunch of useless and unreliable programs? Obviously, there is; otherwise, we would not witness such behavior. Our prediction is that these browser hijackers are primarily used to spy on users and expose them to sponsored links, which is something the developer of these hijackers might be paid for. We trust that the intention of Gotosearch.ru – or any of its clones – is not to provide you with great services or enhance the web search experience. Do you want to use and trust a piece of software that clearly does not have your interest in mind? If you do not, remove this software ASAP.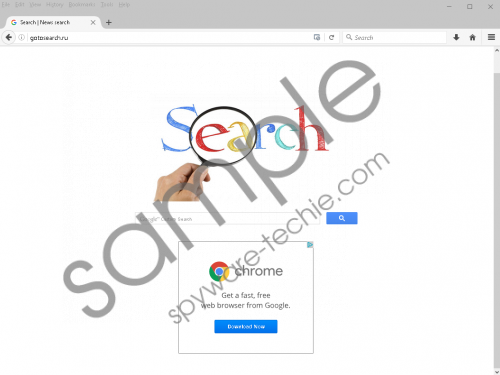 Gotosearch.ru screenshot
Scroll down for full removal instructions
Many users are tricked into thinking that Gotosearch.ru is a trusted search tool because it uses Google Custom Search. Well, if you like Google Search, why don't you install it instead of the hijacker? The bad news is that the Custom Search engine can be modified to represent the content of whoever is in control. Due to this, you might discover advertisements and random sponsored links whenever you try browsing the web. The problem here is that it is unknown what kind of advertisements Gotosearch.ru might display, and it is unknown what kind of risk your virtual security is in by interacting with them. You also must not forget that your personal data could be leaked in case this hijacker uses trackers that are capable of collecting sensitive, personally identifiable information. We would normally check the legal information or contact the creator of the suspicious software to learn more, but since no information is available, we have to consider the worst of all options and outcomes.
The reason Gotosearch.ru is identified as a browser hijacker is because it is most likely to take over the homepages of web browsers illegally. For example, you might discover this hijacker as you download an unreliable extension or when you execute a software bundle that hides malware. Overall, it is possible that dangerous malware has slithered into your operating system, and it must not be overlooked. Is there a way for you to scan your operating system, delete malware, and keep the PC protected at the same time? Luckily, there is, and all you need to do is acquire a reliable anti-malware tool. If you decide to delete Gotosearch.ru manually, do not forget to scan your PC before and after to control the situation.
Remove Gotosearch.ru
Internet Explorer
Open IE and tap Alt+T keys to launch the Tools menu.
Select Internet options.
Click the General tab.
Change the URL under Home Page and click OK.
Restart the browser.
Mozilla Firefox
Open Firefox and tap Ctrl+Shift+A keys to access Add-ons Manager.
In the Extensions menu Remove the undesirable add-on.
Tap Alt+T to access the Tools menu and choose Options.
Navigate to the General menu.
Overwrite the URL under Home Page.
Restart the browser.
Google Chrome
Open Chrome and tap Alt+F keys.
In the menu on the right select More tools and then Extensions.
Click the recycling bin linked to the unwanted add-on and choose Remove.
In the menu on the left click Settings.
Navigate to the On Startup menu.
Check Open a specific page or set of pages and hit Set pages.
Overwrite the unwanted URL under Startup pages and click OK.
Restart the browser.
In non-techie terms:
If you have read the report, you understand why Gotosearch.ru cannot be trusted. This search tool is too unpredictable and suspicious to trust, and we are sure that you don't want to put your virtual security at risk for some search tool that does not even offer attractive services. If you have decided you want to replace the homepage of your browser, you can do so using the guide above. We have also added instructions that show how to remove unwanted extensions that could be linked to the hijacker (Internet Explorer users might need to uninstall software via Control Panel). Of course, nothing beats anti-malware software that can automatically erase all malicious threats and reestablish full-time protection. We suggest you consider implementing this software.