Do you know what GARDA Virus is?
GARDA Virus is a computer infection that is classified as ransomware application. It affects users in Ireland by locking down their computers and displaying a screen-sized notification which claims that the affected user has been involved in criminal activity by distributing child pornography and therefore, his desktop access has been restricted. It goes without saying that you need to remove GARDA Virus from your computer immediately, otherwise the infection will continue to terrorize you.
The most important thing is that you have to keep your money to yourself. GARDA Virus will try to convince you that the only way to unlock your PC is to pay a 100 EURO fine, otherwise your personal information will be forward to law enforcement authorities and you will be tried for the supposed criminal activity.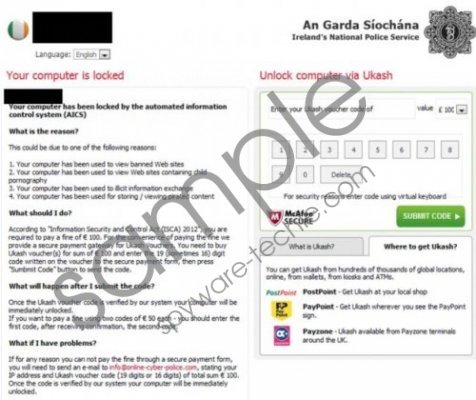 GARDA Virus screenshot
Scroll down for full removal instructions
Truth to be told, GARDA Virus is not the only ransomware application out there. It belongs to a huge family of infections called Ukash Virus group. It comes with the newest batch of these programs, targeting computer users worldwide. Other similar infections from the same wave include Metropolitan British Police Virus and AFP Crime Commission Virus. All these programs display fake notification on your screen that is adorned with the symbols of the National Crime Prevention Unit, making the message seem believable. Nevertheless, there is nothing real bout GARDA Virus and you will do yourself a favor if you ignore the notification at once:
ATTENTION!

Your computer has been blocked up for safety reasons listed below.

You are accused of viewing/storage and/or dissemination of banned pornography (child pornography/zoophilia/rape etc). You have violated World Declaration on non-proliferation of child pornography. You are accused of committing the crime envisaged by Article 161 of Ireland criminal law.
On top of that, GARDA Virus claims that you have only 48 hours to pay the 100 Euro fine. If you fail to do so, your case will be forwarded to the court. Also, if you try restoring your desktop access yourself; GARDA Virus threatens to format your HDD. While this infection could be related to a number of Trojans and other malware applications, there is no way that GARDA Virus could delete your files, so you do not need to worry about that.
Rather than thinking of paying the fine (which would be a TERRIBLE mistake), you should proceed with GARDA Virus removal. In order to remove this application you need to unlock your desktop and then acquire a reliable antimalware program that will help you to delete GARDA Virus and other infections automatically. To unlock your desktop, follow the instructions below.
How to restore desktop access
Windows 8
Press Windows key and metro Start menu will open.
Click Internet Explorer tile and type http://www.spyware-techie.com/download-sph into the address bar. Press Enter.
Click Run on download dialog box and install SpyHunter.
Run a full system scan.
Windows Vista & Windows 7
Restart your computer and tap F8 repeatedly until Advanced Boot Options menu appears.
Select Safe Mode with Networking and press Enter.
Go to http://www.spyware-techie.com/download-sph and download SpyHunter.
Install the program and scan your PC.
Windows XP
Follow the steps 1 and 2 above.
Click Yes on a confirmation dialog box.
Download SpyHunter.
Open Start menu and click Run.
Enter "msconfig" and click OK.
Select Startup tab on System Configuration Utility.
Click Disable all and press OK.
Reboot the PC in Normal mode.
Install SpyHunter and launch a full PC scan.
If you do not know how to remove GARDA Virus on your own, leave me a comment below and we will figure it out together.
In non-techie terms:
GARDA Virus is a dangerous computer infection that targets your money. Remove GARDA virus from your PC right now and save yourself the trouble of being terrorized by cyber criminals.
Aliases: GARDAVirus.