Do you know what Explorealways.com is?
If you have noticed unauthorized changes within your web browser's default settings, it is likely that they were triggered by an invasive piece of software. One application that is fully capable of this goes by the name of Explorealways.com. After a careful examination, it has been classified by malware researchers at Spyware-Techie.com as an intrusive search engine. It goes without saying that alterations induced by this suspicious program will have a profoundly negative effect on your daily online activities. While this should be a reason enough to get rid of it, you should also be aware of the fact that in some situation this devious search engine might present you with potentially harmful results that could lead you to devious web content. If you ever find Explorealways.com fully active on your operating system do not take any chances with it and conduct its complete removal right away. To do so in the easiest way possible, simply follow the detailed removal instructions that we present below our report.
The effects of Explorealways.com are visible as soon as it successfully enters your operating system. The two major changes triggered by it are of your default search engine and homepage. Usually, this is a direct result of this intrusive application's ability to silently alter inner settings of your browser. One of the most annoying things about all of this is the fact that you are not notified about that. While such changes might seem quite irrelevant, you will soon realize what a crucial role they will play on a daily basis. Basically, for as long as this unwanted program is active on your computer, you will be forced to start every single browsing session on a newly appointed search engine whether you like it or not. Your default search engine will be affected in the same way, meaning that all your online queries will go through a questionable search engine regardless of your preference. What is even more frustrating about this particular change is the fact that in quite a few cases this undesirable engine will present you with third-party sponsored results, which will be, without a doubt, absolutely worthless. To regain default settings of your web browser and to surf the web the way you are used to once again, you need to delete Explorealways.com in its entirety. Failing to do so will result in a bothersome and frustrating online experience as all the intrusive alterations will remain intact.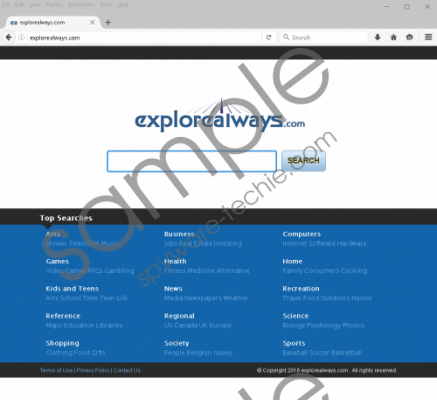 Explorealways.com screenshot
Scroll down for full removal instructions
What is even more worrisome about Explorealways.com is that it could prove to be so much more than just annoying. While carrying out the research, our malware experts have discovered that the worst thing about this suspicious program is that it could turn out to be the reason other suspicious applications might be able to enter your PC without encountering a lot of trouble. This could happen because the devious search engine could present you with a result hosting a redirect link, which could then lead you to a potentially dangerous site. In certain situations, you could end on web pages developed by malware distributors; sometimes, just entering sites like that could be enough to get your PC infected. In other situation, you could get redirected to fake online stores, and this way cyber crooks could get a hold on your credit card data. Therefore, we always advise you to learn about an online shop as much as possible before making any kind of purchase, especially if it is a store that you are not familiar with. It goes without saying that Explorealways.com could prove to be a major virtual threat and that is the main reason we urge everyone that has it active on their computer to remove it without any hesitation.
The complete removal of Explorealways.com is important not only because it will help you surf the web the way you are used but because it is also essential to your overall virtual security. The instructions that we present below, if executed correctly, will delete this devious search engine in its entirety. If you are still bothered by the intrusive changes imposed by Explorealways.com, we advise you to conduct an analysis of your operating system for potential leftovers linked to it since they are likely responsible for that. Such analysis will allow you to be sure that every single bit of this unwanted program has been removed entirely.
How to remove Explorealways.com from your PC
Google Chrome
Start your web browser.
Click the Chrome Menu button and select Settings.
Scroll down and click Show advanced settings.
Scroll down and select Reset settings.
Click the Reset option to confirm your choice.
Mozilla Firefox
Launch your web browser.
Select the Menu button and click the question mark icon at the bottom.
Select Troubleshooting Information.
Click Refresh Firefox.
Click Refresh Firefox to confirm your choice.
Internet Explorer
Open your web browser.
Click the Menu button and select Internet Options.
Select the Advanced tab and click Reset.
Check Delete personal settings and then click the Reset button.
Click Close.
In non-techie terms:
We are well aware of the fact that some users are not comfortable performing manual removal or the analysis of their PC. This is why our researchers have crafted an alternative removal guide. Follow the instructions that we present below and you will be able to delete Explorealways.com in an automatic manner.