Do you know what Discoverreceipt.com is?
If you do not want to come across suspicious advertising content, it would be advisable to find a safer alternative for Discoverreceipt.com. The search engine is considered as unreliable because it may show you targeted advertisements belonging to the software's third-party partners. The problem is that such ads may originate from harmful web pages and the application's creators take no responsibility for such ads or the content they promote. In other words, as you could be risking the computer's security, the search engine's developers might be generating advertising revenue. Therefore, we would advise you to avoid suspicious advertisements and eventually delete Discoverreceipt.com. Users can erase it with the removal guide available at the end of this article or with a security tool of their choice.
Firstly, let us begin by explaining how the search engine could be distributed. Our specialists believe that it might be spread with bundled software installers. Undoubtedly, such setup files should come from questionable sources, for example, it could be file-sharing web pages like torrent sites. Since, Discoverreceipt.com might be an additional application on the setup wizard, which means it would come only as an offer, the user should be able to deselect it.
Nevertheless, we think there could be users who did not notice the search engine and installed it without realizing it. This often happens for users who rush the installation and accept the given terms without finding out what they agree with. If you usually act like this too, we would advise you to be more careful, especially with freeware installers or any setup files that come from unreliable sources.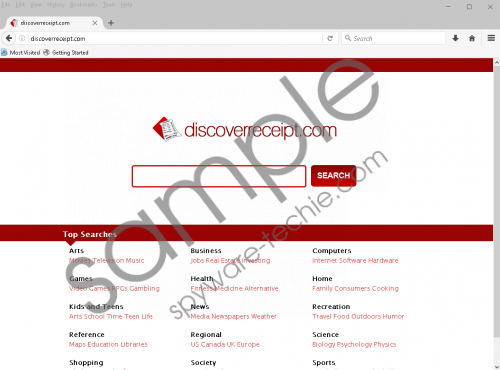 Discoverreceipt.com screenshot
Scroll down for full removal instructions
The search engine might settle on the system by replacing user's default homepage, search engine, or new tab page. According to the Privacy Policy and End User License documents available on Discoverreceipt.com, the application may "track user behavior and use of our services through the use of cookies and web beacons." It means that the software could collect information about your browsing habits. For instance, it may record what web pages you visit, which ads were clicked, how much time you stayed on a particular site, and so on.
After analyzing user's data, the application could start displaying targeted advertisements. The ads may promote third-party web pages or products and services offered there. Unfortunately, there is a chance that some part of the ads might lead you to malicious web pages. In that case, users could encounter websites with adware, browser hijackers, potentially unwanted programs, or even malware. Besides, the third-party websites would have different Privacy Police documents, so if you happen to enter such site, it is best to find out if it cannot invade your privacy.
All things considered, we would not recommend using Discoverreceipt.com if you do not want to keep any unreliable applications on the computer. The software could be potentially dangerous, so it would not be wise to take any risks when you can replace it with a reliable search engine. If you agree with us, we can offer you our removal guide available just below this text. It will show you how to reset the affected browser and eliminate the application. Also, users can erase Discoverreceipt.com with a trustworthy antimalware tool. In case you suspect there might be other unreliable programs on the system, deletion with the antimalware tool is more recommended since it could detect the other threats too. If you still have some questions related to the removal process or the search engine itself, write us a message below or through social media.
Erase Discoverreceipt.com
Internet Explorer
Press Alt+X, choose Internet Options, then pick the Advanced tab.
Select Reset and click Delete personal settings.
Press Reset again and click Close.
Mozilla Firefox
Click on the Help icon (top-left corner).
Press Troubleshooting information and choose Refresh Firefox.
Select Refresh Firefox again and pick Finish.
Google Chrome
Press Alt+F simultaneously and select Settings.
Slide to the bottom and click on Show advanced settings.
Scroll down again, press Reset Settings, and click Reset.
In non-techie terms:
We could not say that Discoverreceipt.com is any better than most of the search engines. On the contrary, the tool is considered to be unreliable because of the third-party content it might promote through the search results. Apparently, the ads might be dangerous as they may redirect the user to harmful web pages. Naturally, we advise you to get rid of the application at once and replace it with a tool created by a reputable company. To eliminate the threat, you could either follow the removal guide placed below or install a trustworthy antimalware tool and let it take care of it.