Do you know what Delta-Homes is?
If the home page of your Internet browsers has been changed to Delta-Homes.com without your consent, there is no doubt that your personal computer is infected with a browser hijacker. This malicious program has been created by cyber criminals who could use the hijacker to involve you in online scams, spy on your virtual activity or even infiltrate malignant programs. If this happens, you may need to worry about the removal of various malignant threats besides the browser hijacker itself. Without a doubt, this is exactly what you should avoid, and you can do this by getting Delta-Homes deleted as soon as possible.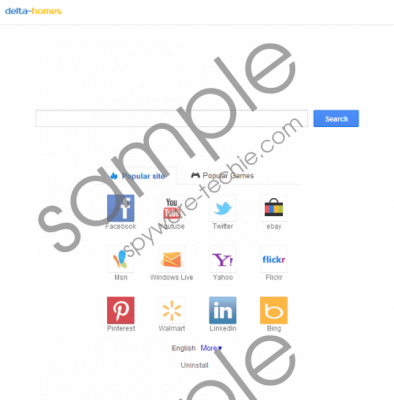 Delta-Homes.com screenshot
Scroll down for full removal instructions
The delta-homes.com is not a website you can trust, even if it was not employed by schemers to convey malicious scams. This is because it cannot provide any reliable and unique search results. It has been discovered that the search engine utilizes Google and other well-known search providers to present you with search results, which is highly suspicious. Why would you use a third party to discover google.com/search results? Without a doubt, there is a chance that schemers will expose you to the search results of much less reliable sources. The same goes for the displayed links to Facebook, YouTube, Walmart, or LinkedIn. There are no guarantees that these links could not be modified to route you to corrupted websites.
It is absolutely necessary to remove Delta-Homes from the operating system. Unfortunately, it is not enough to change the home page to have the hijacker deleted from the operating Windows system. In order to succeed you should implement authentic security tools with automatic spyware detection and removal capabilities. Click the download button below to install an authentic and efficient spyware remover. Once the tool completes the removal task, you should immediately change the undesirable home page settings.
Change the undesirable home page
Internet Explorer:
Open IE, simultaneously tap Alt+T and select Internet Options.
Click the General tab, change/remove the Home Page and click OK.
Mozilla Firefox:
Launch Firefox, simultaneously tap Alt+T and click Options.
Now click the General tab and navigate to Home Page.
Overwrite/remove the provided URL and click OK.
Google Chrome:
Open the browser, simultaneously tap Alt+F and select Settings.
Under On Startup mark Open a specific page or set of pages and click Set pages.
Overwrite/remove the set URL and click OK.
Under Appearance, mark Show Home button, click Change and repeat step 3.
In non-techie terms:
You should delete Delta-Homes browser hijacker as soon as you possibly can. The clandestine infection can utilize various security vulnerabilities to enter the operating system. Therefore, it is clear that you need to replace old, ineffective security tools with much more beneficial and reliable spyware detection and removal software. Install SpyHunter to have the PC guarded and the browser hijacker removed.
Aliases: Delta Homes, Deltahomes