Do you know what Call Technician Now at 1-914-465-0012 is?
This threat was named like this because it shows a false warning window titled as Call Technician Now at 1-914-465-0012. Even though, it might look like a legitimate notification from the operating system, we can assure you that the warning is fake and caused by some suspicious application you may have recently downloaded. We should also warn users that if they call this number the scammers who may answer it could try to trick them into purchasing unnecessary software or services. Therefore, instead of wasting your money on products you do not even need, we advise you to get rid of the threat with our removal guide placed below the main text. As for more information about Call Technician Now at 1-914-465-0012 users should read the full article.
The application which shows Call Technician Now at 1-914-465-0012 fictitious warning might have appeared if you recently downloaded any suspicious files or installed unreliable software. In any case, it means you should be more careful in the future, or better yet take some extra precautions to secure the system. For instance, users could employ a legitimate antimalware tool, which could help them identify suspicious data and protect the computer against malware. Just keep it in mind that the tool can protect the system from newer threats only if it is fully updated at all times.
During the installation, Call Technician Now at 1-914-465-0012 should create a Registry entry in the HKEY_CURRENT_USER\SOFTWARE\Microsoft\Windows NT\CurrentVersion\Winlogon directory. Because of this entry, the threat might be able to relaunch itself after you restart the computer, so as long as you leave data belonging to this application on the system, the fictitious warning might keep showing up. Besides the Registry Entry, it should also create a folder with a file called fatalerror.exe in the C:\Program Files (x86) directory.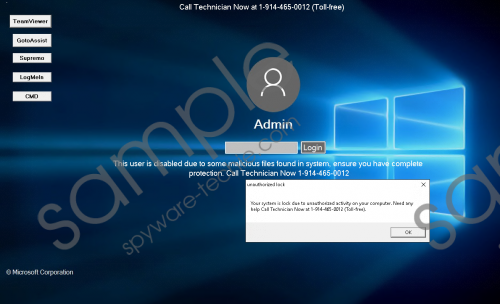 Call Technician Now at 1-914-465-0012 screenshot
Scroll down for full removal instructions
The false warning shows up when fatalerror.exe is launched, and you should be able to see it listed among the processes in the Task Manager. As we already said, in the beginning, the notification is fictitious. Thus, you should not believe when it says that the system identified an unauthorized activity or caught a malicious program. Obviously, if you call 1-914-465-0012, the people who could answer might be scammers pretending to be from the Microsoft technical support team. Such people could try to swindle your money by suggesting you purchase their services or products. However, since the only problem with the system is the false warning itself, we would advise you not to call this number and simply get rid of the threat to take back the control of the system.
Additionally, the application could open user's default browser and redirect him to thanku789.yolasite.com or metrocash.info, but since the screen is locked users might not notice it. After you unlock the screen, you should simply close such websites if they are actually loaded. Then it is important to erase all Call Technician Now at 1-914-465-0012 created folders and files.
To unlock the screen, you should follow the first couple steps in the removal guide placed below. Also by continuing to follow the instructions you could get rid of the threat manually. Nonetheless, if it appears to be too difficult, users can eliminate the application with an antimalware tool too. Install it on the system and start the full system scan. After the scan is over, you should be able to delete the fictitious notification's data automatically. In fact, the tool might help you detect other possible threats, so if you use it to erase Call Technician Now at 1-914-465-0012, it might be a good opportunity to clean the system too.
Erase Call Technician Now at 1-914-465-0012
Press Ctrl+Alt+Delete to access the Task Manager.
Locate a process called fatalerror.exe (32 bit), select it and click End Task.
Press Windows Key+R, type regedit and click OK to launch the Windows Registry.
Navigate to this specific path: HKEY_CURRENT_USER\SOFTWARE\Microsoft\Windows NT\CurrentVersion\Winlogon
Find a value name called Shell; its value data should point to C:\Program Files (x86)\Power Cam\fatalerror.exe
Select the value name, right-click it and select Delete.
Close the Windows Registry and open the File Explorer (press Windows Key+E).
Navigate to this location: C:\Program Files (x86)
Find a folder called Power Cam; it should contain a file named as fatalerror.exe.
Right-click the folder (Power Cam) and select Delete.
Look for suspicious executable file you recently downloaded, e.g. in the Downloads, Desktop, Temporary Files, and other folders.
Right-click the suspicious executable file and choose Delete.
Empty the Recycle bin.
In non-techie terms:
Call Technician Now at 1-914-465-0012 is a suspicious program that locks user's screen and shows a false warning from the Windows operating system. The message tries to convince the user that something is wrong with his computer, for example, it could lie about detected malicious programs or cyber-criminal attacks. If you see such message, you should ignore its warnings and get rid of this threat as soon as possible. The first two steps of our removal guide placed above will show you how to unlock the screen; then you can decide if you want to continue following them and eliminate the false warning manually or install a reliable antimalware tool and delete it automatically.