Do you know what AVASoft Professional Antivirus is?
If you know what AVASoft Antivirus Professional is all about, then you will definitely know what AVASoft Professional Antivirus is. These two fake antivirus programs are one and the same thing, it's just that they may have one of the two titles on its interface. You have to remove AVASoft Professional Antivirus from your PC right now, otherwise the infection will block your executable programs and even your Internet connection if you allow it to stay. You have to understand that there is nothing legitimate about this program, and the only reason for AVASoft Professional Antivirus virus to enter your computer is money.
Fake antivirus applications like AVASoft Professional Antivirus infect target computers and pop up into your screen to perform a full (fake!) system scan. During the scan you are presented with a list of supposed malicious infections that are causing your computer to slow down. In case of AVASoft Professional Antivirus virus, you are told that you are infected with such things as Win32.Rbot.fm, Spyware.IMMonitor, Zlob.PornAdvertiser.ba and other computer threats. Although these malicious files are not made up, they ARE NOT present in your system. AVASoft Professional Antivirus simply makes an impression that you are severely infected and then it tries to push you into purchasing the full version of the program.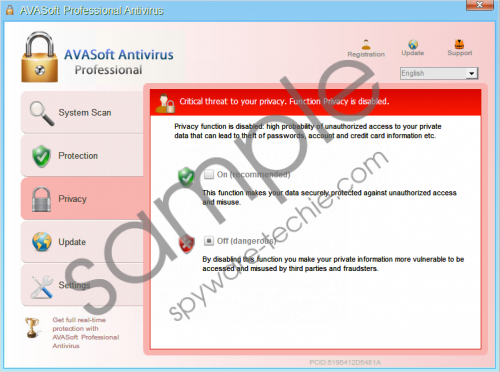 Sample AVASoft Professional Antivirus screenshot
Click here for full removal instructions
In general, AVASoft Professional Antivirus behaves just like other WinWebSec rogues that came before it. For example, Disk Antivirus Professional, Live Security Platinum or System Progressive Protection - all of these rogues have similar fake security notifications, and AVASoft Professional Antivirus also displays fake messages that look just like the ones displayed by the predecessors:
Warning: Your computer is infected
Detected spyware infection!
Click this message to install the last update of security software…
AVASoft Professional Antivirus Warning
Your PC is still infected with dangerous viruses. Activate antivirus protection to prevent data loss and avoid the theft of your credit card details.

Warning: Your computer is infected

Detected spyware infection!

Click this message to install the last update of security software...
In order to avoid serious infection symptoms that do not allow you to load your programs or block you from accessing certain website, you need to register AVASoft Professional Antivirus right now, with this activation key:
AA39754E-715219CE
Click the registration icon on the rogue's interface, enter a fake email address and the activation key. All the fake notifications and other infection symptoms will be gone temporarily and you will be able to remove AVASoft Professional Antivirus from your PC without any difficulty.
Perform a full system scan with SpyHunter free scanner to find out where exactly AVASoft Professional Antivirus's files are located, if you are going to terminate the rogue manually. However, if you are not a computer expert you are highly advised to remove AVASoft Professional Antivirus virus automatically with a powerful antimalware tool. Do not hesitate to invest into one, because this way you will protect your system from similar threats.
In non-techie terms:
AVASoft Professional Antivirus is a dangerous computer infection that wants your money. You need to remove AVASoft Professional Antivirus from your PC with a powerful computer security tool, otherwise it can seriously damage your system, stealing your money from you.
Aliases: AVASoft Antivirus Professional.