Do you know what 1-888-535-7102 TechScam is?
1-888-535-7102 TechScam is a message you saw on your screen when you have a particular malicious program installed on your computer. Our research team says that this is a fake alert designed to push users into spending their money for non-existent services. Unless you remove the 1-888-535-7102 TechScam message from your computer, you will not be able to operate it properly. This description here will tell you more about the scam, and what you should do to protect your system and yourself from such intruders in the future. If you have further questions when you are done reading the article, please feel free to leave us a comment below.
There are several ways to get infected with this 1-888-535-7102 TechScam thing. It usually travels just like other unwanted applications by employing third-party installers. It means the malicious file can come bundled with some freeware app you downloaded from a file-sharing site. What's more, it means you install this file yourself! That is why it is important you read all the steps in a setup wizard. Perhaps you can skip the default steps that spell the terms of use and end user license agreement, but bundled software installation wizards often mention additional features you are about to install, and you should be able to deselect those features if you do not skip those steps. If possible, refrain from installing the "default" setup, and go for "custom" setup.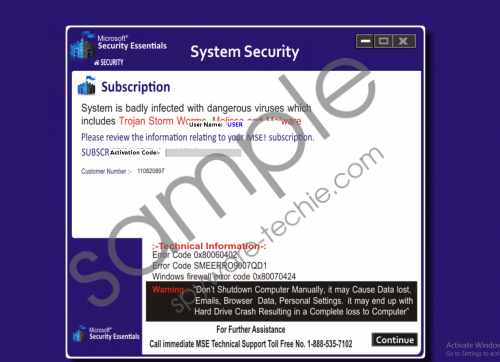 1-888-535-7102 TechScam screenshot
Scroll down for full removal instructions
Another way for this 1-888-535-7102 TechScam fake message to reach you is through redirections. You might be redirected to a website or a pop-up that distributes the malicious file when you enter some associated webpage. You may also experience a redirection to an unfamiliar website if you have a browser hijacker installed on your system. If that is the case, then this fake alert is not the only security issue you have to deal with. When you remove 1-888-535-7102 TechScam from your system, you will also have to run a full system scan to locate and delete other potential threats.
When the 1-888-535-7102 TechScam message takes over your screen, it says that your "system is badly infected with dangerous viruses," and you need to call the given number to get rid of those infections. Of course, here you might ask how anyone can trust this, but the scam makes use of popular security application's templates, so it makes the message seem more believable. Not to mention that users often panic when they see something like this, and they are more willing to follow such instructions without giving it a second thought.
Unfortunately, nothing good would come out of calling the 1-888-535-7102 number. The scammers will try to get your financial information out of you, and it is very likely that they will ask you to give your credit card number, too. Thus, you might end up suffering significant financial losses if you call this "tech" number. Please refrain from doing so because there is another way out of this situation.
At first, it might seem that removing 1-888-535-7102 TechScam is hard because it virtually freezes your entire system. However, there is a way to bypass this lockup, and we will tell you how to do that in our instructions. If you are a computer-savvy user, you probably know already that you can kill the message via Task Manager.
After the manual removal, do not forget to run a full system scan. As mentioned, this fake alert is probably just one of the many unwanted intruders currently hiding in your system. It might be too challenging to remove them all on your own, so you should allow a powerful antispyware tool to take care of it for you.
Please remember that investing in a security application has long-term benefits, as this application will protect your PC from similar infections. You just have to keep it updated, so that the program would have all the latest malware definitions. Also, apart from that, you should be attentive when you browse the web because cyber criminals have prepared a lot of traps out there for unsuspecting computer users. Take your computer's security seriously, and do everything you can to protect your system from harm.
How to Remove 1-888-535-7102 TechScam
Press Ctrl+Shift+Esc and the Task Manager will open.
Open the Processes tab and click WindowsServiceHost.exe.
Click End Process and kill the malicious process.
Use the Task View (Alt+Tab) to close the fake alert window.
Press Win+R and type %ProgramFiles(x86)% into the Open box.
Go to Microsoft Corporation\Windows\System32\PowerSaver.
Delete the WindowsServiceHost.exe file.
Press Win+R and type %AppData%. Click OK.
Go to Roaming\Microsoft\Windows\Start Menu\Programs\Startup.
Delete the mysystem.lnk file.
In non-techie terms:
1-888-535-7102 TechScam is one of the many tech scams out there that make users think there is something wrong with their computers and they simply have to purchase something from this service. Needless to say, the fake alert is there to swindle you out of your money, and you should never trust it. Simply remove the infection by following our instructions, or get yourself a powerful security tool that will ensure all the malicious files and applications disappear from your system for good.